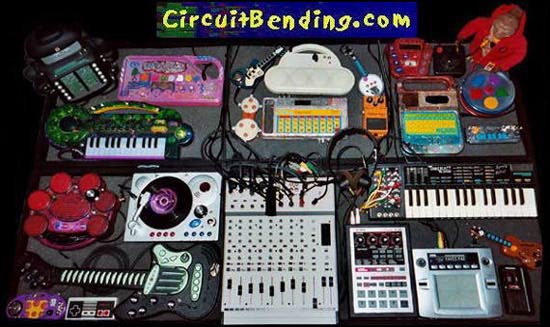 KEYBOARDS | GUITARS | MICRO-JAMMERS | MISC TOYS | HI-TECH | LINKS
BILL T MILLER | ORGY OF NOISE | WATERHED | THOM ULIASZ
CASPERELECTRONICS | TABLEBEAST | REED GHAZALA
TIM KAISER | SIR KUT BEN DURE | EVIL INSTRUMENTS | J SMILEY
WAYNE WYLUPSKI | JIMMIE P RODGERS | DeMenTia laBs


CircuitBending.com is anti-musician engineer producer remixer BILL T MILLER's CIRCUIT BENT TOY PLAYLAND unleashed into an ORGY OF NOISE. DOWNLOAD FREE MP3s featuring circuit bent toys from ORGY OF NOISE and other BTM related bands (OBE - KING OF FEEDBACK - DRUM ARMY - KING OF SLACK & ZONKULATOR.) You can even SEE VIDEOS on YouTube from the Orgy Of Noise DVD.
This site features bent and stock toys from my collection that have been bent by some of the finest benders in the land. Each bender has a page here featuring some of the toys they have bent for me. I do basic bending, some bent art and create outsider homemade instruments. Since I know all these super duper expert benders, I have them do the real heavy duty bending and sometimes suggest design ideas and needs for custom bends.
NONE of the toys HERE on this site are actually FOR SALE by me, they are part of my private collection, but some of the benders here might hook you up directly themselves.

Since 2002, i have tried to keep a PILE OF BENT LINKS as a resource, but lately there are so much happening that i can't keep up. If you want your Bent Site linked, just get in CONTACT and i will hook you up.

I luv my toys, but to the MUSIC-NOISE that I create with all of this means more to me than the actual gizmos. THANX for LISTENING. - Bill T Miller


---

Be sure to visit some of my favorite active benders....

* WATERHED at Bentstruments.com
* THOM ULIASZ at Burnkit2600.com
* TIM KAISER at Tim-Kaiser.org
* PETER EDWARDS at CasperElectronics.com
* REED GHAZALA - Father of Circuit Bending at Anti-Theory.com
Ghazala coined the term CIRCUIT-BENDING (in 1992) and re-defined the age old classic practice of electronic circuit hacking & tinkering into his own new vision. Reed is a true genius and pioneer of electronics exploration who is also a brilliant musician, artist and photographer. If you are interested in art of circuit-bending, Reed's site is the place to explore.




PULL DOWN MENU and CLICK GO for MORE !