SCOTT CAMPBELL of EVIL INSTRUMENTS
hooked BILL T MILLER with an
INEBRIATRON ROBOT, a SCI-FI SYNTH
and an ALBINO BEATBOX.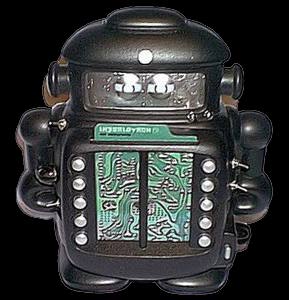 INEBRIATRON ROBOT
INEBRIATRON is a unique sample source or live instrument capable of producing the strangest tones. Flip switches, press buttons, tweak knobs, touch the contact points, or wave your hand in front of the photo-cell to create sounds and rhythms unheard. INEBRIATRON comes with a program card that allows you to use the chest buttons as notes. Supermods include:
1. voice glitch switch- this sends the voice synth into an alien stutter loop
2. destroytion switch- this distorts the voice and chest buttons
3. 3-way switch- turns on one of two oscillations
4. knob to control those oscillations
5. photo theremin switch- activates an oscillation
6. photo cell- controls that oscillation
7. 2 human contact points- touching both of these at
the same time does weird things to any oscillations
8. degrade knob- this adds tremolo to any oscillation
9. 1/8" output (on back)
---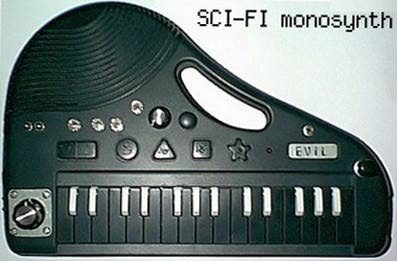 SCI-FI MONOSYNTH
Evil cinematic sci-fi soundscapes with this compact 29 key monosynth.
PREmodification features include:
-volume
-power LED
-note record and playback
(saves last tune recorded when turned off)
-3 beats w/tempo controls
-4 synth tones
-built-in speaker
Supermodifications on the SCI-FI include:
-Master pitch/speed knob
-2 human contact points. touching contact 1 raises the pitch one half step. touching contact 2 lowers the pitch one whole step. touching both contacts at once raises the pitch 4 1/2 steps.
-3 distortion switches. use these in any combination to mutilate any of the four preset synth tones
-oscillation station: this consists of a switch, a knob, and a push-button. Use the switch or the push-button to activate the oscillation (tone). Use the knob to mix the oscillation in and out.
-repeat button: repeats the last note played.
-1/8 " output
---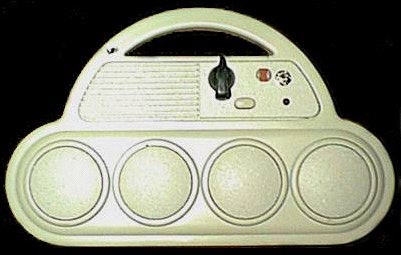 ALBINO BEATBOX
Drum synth/optic theremin modified by EVIL INSTRUMENTS. The ALBINO BEATBOX is a unique sample source or live instrument capable of producing the strangest beats and tones. Pre-modification, this toy has a button to start rhythm and 4 buttons to add fills. Added controls include a master pitch/speed down knob and a photo cell (with activation toggle) which acts as a pitch/speed up control varied by the amount of light hitting the cell. An 1/8" output is added to amplify the A.B.B. or send it through effects.

BACK TO BILL T MILLER's
circuitbending.com