JIMMIE P RODGERS
CREEPY CAVE CRAB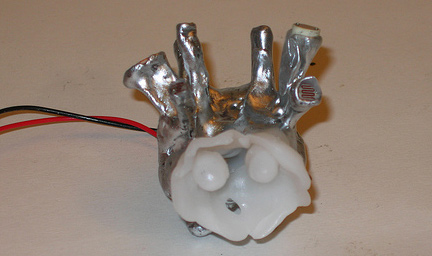 Jimmie made these for the Willoughby and Baltic Halloween show at the Charles River Museum of Industry. They use a single Hex Schmitt trigger inverter IC to generate the sound, and two RGB color change LED to generate the lights. He then encased them in friendly plastic, and painted them with silver paint.

I (Bill T Miller) met Jimmie because he was hosting circuit bent workshops and jam-outs at Willoughby and Baltic Gallery in the Boston area. I am a regular side-kick at these his NOISE NIGHT's and really luved the sounds and interactivity of his Creapy Cave Crab gizmo. I had to have one to use in my ORGY OF NOISE = BILL T MILLER live show and recordings, so Jimmie made his first official electronic sale (ever) of one of the six he made for the museum show to me. Of course now I want another one or two.

I ended up taping the cable to the crab's output so that LIVE in concert I could swing it around screaming drone tones sorta like The Who's Roger Daltry does with his microphone. Great visuals and sonics.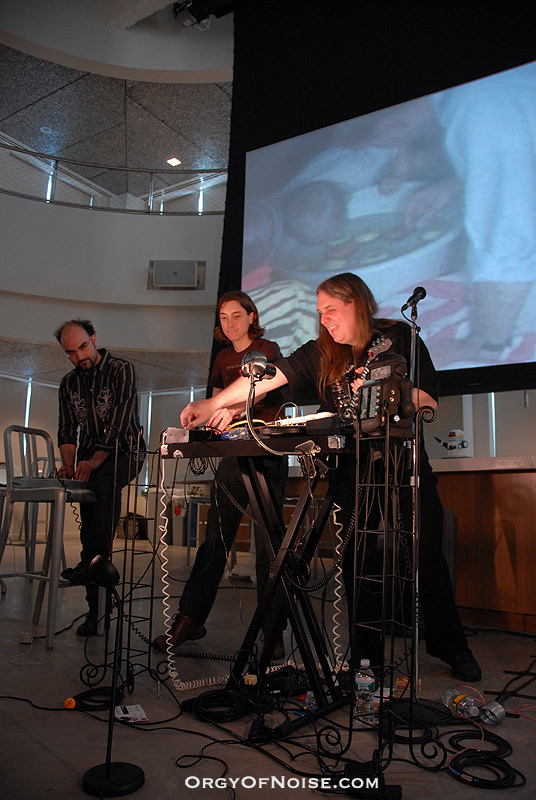 DEREK & JIMMIE & BTM jamming an ORGY OF NOISE at CYBERARTS.




CHECK OUT....
PHOTOS & VIDEO of NOISE NIGHT and CYBERARTS !
Schematics & more info on how to make a Creepy Cave Crab.
jimmieprodgers.com
NoiseNight.com



BACK TO BILL T MILLER's
circuitbending.com