SPRAYED UPON
keyboard
hacked lighting keys keyboard. opto controlled sample rate and various glitch mods have been added. this keyboard features a very basic sequencer which is useful to create frantic rhythmic spasms.
two degrees of pitch mod via light sensors
touch sensitive pitch down (way down) mod
body contact glitch screws with on/off button
quarter inch output
speaker defeat switch.
custom J. Smiley paint job

STOCK Cool Kids Keyboard Before Bending....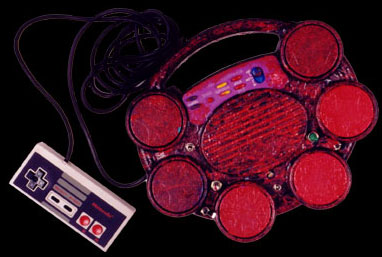 BEAT SQUASHER
drum machine
noise lovers rejoice. this is the beat squasher, it's original function is maintained. cheesy preset beats, lots of drum and effect type sounds are selectable, also features a rudimentary sequencer. it has been coated with a multilayer paint-texture-gloss.
modifications include:
knob to pitch way down to stuttergarbletown.
optic sensor which controls pitch, slightly higher to extreme low
nintendo joystick which freezes the sound in disturbing ways.
there are switches to engage each of the mods
speaker defeat switch
custom J. Smiley paint job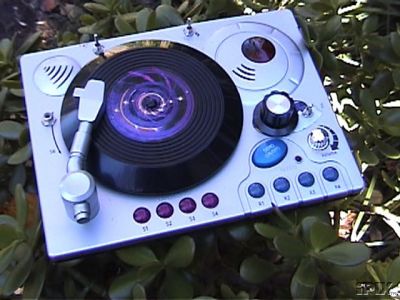 DJ FREAKFEST
turntable beat maker
original features of the machine:
six sound effects, four are triggered by the red buttons, two triggered by the record spin. the sound effects on the records are scratches, the buttons say "move your body" "ohhhh" etc...
four beats are selectable via the blue buttons, and the demo button plays all the loops over and over and over. red plastic eye which pulsates with the beat.
a phrase such as "move your body" said with so much emotion and conviction in normal mode, turns into a disturbing command at the turn of a knob
modifications include:
switch which activates the pitch adjust knob
reboot switch
output cut switch
rca output jack
* THIS BENT DJ Machine was further restored / modified by THOM ULIASZ.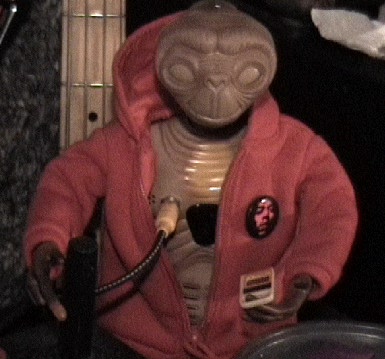 BACK TO BILL T MILLER's
circuitbending.com