WATERHED - Circuit Bender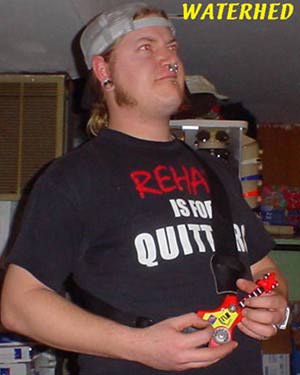 WATERHED (aka Patrick Gill) of BENTSTRUMENTS has bent tons of toyz for Bill T Miller. Some of these include... Hot Lixx Guitar, Talking Teacher, Jaminator Guitar, Coin-U-Lator, PXL 2000 Camera, Omichord OM-27, Realistic Reverb Tank, Boss Dr. Pad, and several Micro Jammers (Surf Guitar, Harmonica, Bongos, RapDrum, Banjo, Fiddle and Heavy Metal Guitar.)
Waterhed is a top notch pro bender and great dude. I have been very happy with the pile of toys he tweaked-out for me. Highly recommended! THANX! --- Bill T Miller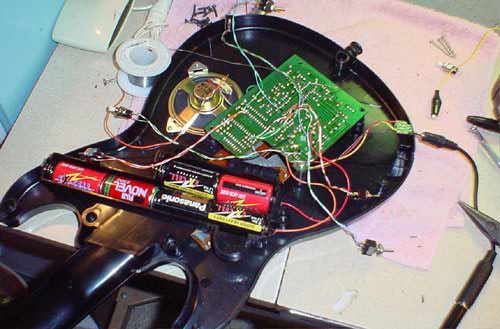 WATERHED Hot Lixxer BTM Geetar
Eight glitch/tweak/distortion/pitch switches
Push-button vibrato/pitch
Body contacts
Reset button
1/4 and 1/8 inch output jacks
One of kind - custom bent by Waterhed for BTM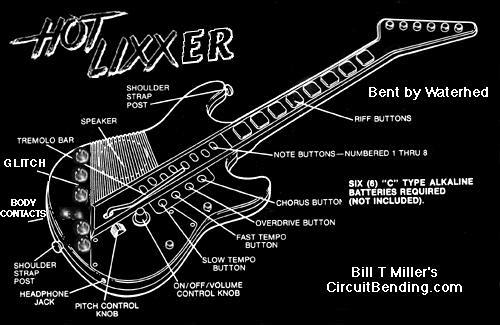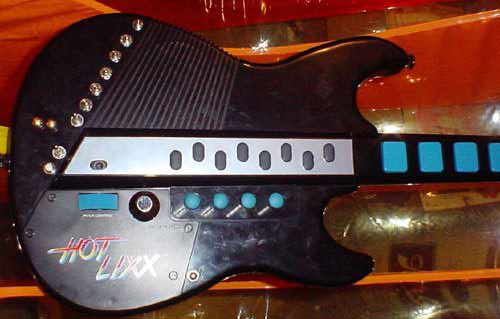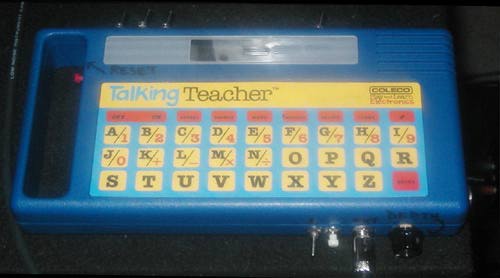 WATERHED Circuit Bent Coleco Talking Teacher
Two glitch switches
Two loop switches
Momentary glitch button
Fuzz switch reset switch
Closed circuit 1/4" output jack
Super slo-mo depth pot
Optical sensor len with on/off switch


ORGY OF NOISE - Bent For Teacher
THIS SONG features BTM tweaking the Waterhed Talking Teacher.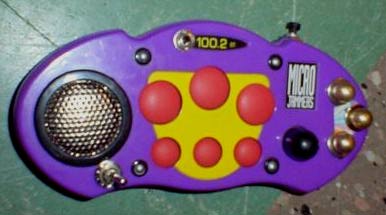 WATERHED Micro Jammers Funky Drum Machine
SIX SOUND PADS
PUMP IT UP YALL! with beat
ORCHESTRA HIT with beat
YO! with beat
FUNKY! with beat
SCRATCH sound with beat
BELLS with beat controls
Knob for pitch and rate change

BENDS
Three body contacts for pitch up and down.
Switch for super speed glitch
Bent off/pulse button
1/8" output jack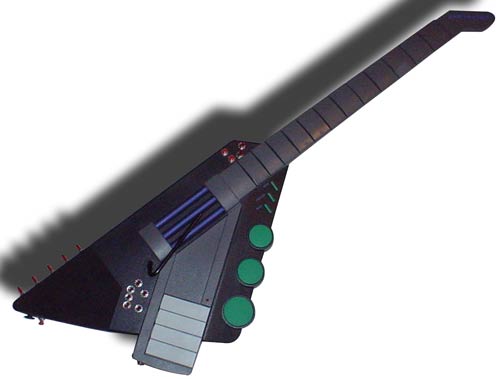 WATERHED JaminatorX Guitar

BENDS
Eleven Glitch Toggle Switches
Tweak push button
Hold-Loop step sequence push button

STOCK FEATURES
Twelve fret patterns on neck
Three drum trigger pads
Four keyboard keys
Whammy bar for bends
Several built in beats and jams
Expandable ram cartridges for more sounds
(With Hard Rock-1 Cartridge for Eno-Dub Mode)
1/8" output jack - 9 volt battery or power supply
Power and volume switches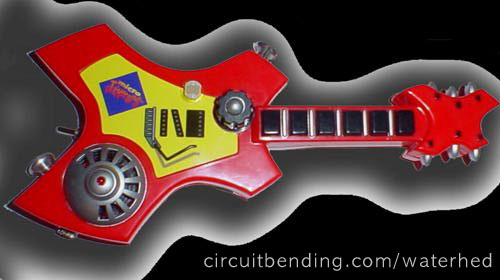 Micro Jammers - Heavy Metal Guitar
Tremolo - Pitch opto control with on/off switch
Micro LED in speaker cover that strobes to the beat
Pitch contact guitar strap buttons
1/8" output jack
Custom bent by WATERHED for BTM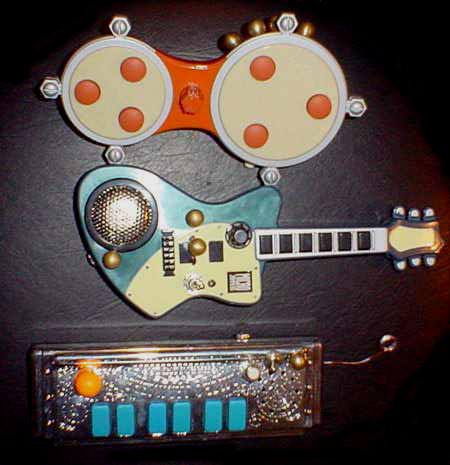 Micro Jammers - BONGOS - SURF GTR - HARMONICA
Glitch/pitch/loop switches, body contacts, and 1/8" output
Custom bent by WATERHED for BTM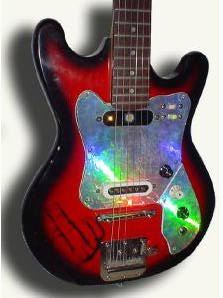 GUITHEREMIN
80's Hohner strat style guitar
opto (light sensitive) theremin in one of the pickups
glowing yellow led above pickup
depth control knob for theremin pitch
battery pack is velcro to power theremin
tone pot now fades either the guitar or the theremin
1/4" output jack
Bent by WATERHED for BTM

Circuit Bent PXL2000 Camera
Fully modded and circuit-bent Fisher Price PXL 2000 camcorder. For years WATERHED (Patrick Gill) has been repairing, restoring and modifying 100's of PXL2000 cameras, all with very satisfied customers. With this modified camera you have your choice of recording onto the onboard cassette as normal or sending the signal into an external recording source for pro playback via the rca output jacks ive added. Also, inludes a signal amp that will allow you to shoot to any DIGITAL CAMCORDER OR VHS DECK without the frustrating blue screen or very dark image that that usually accompany todays modern camcorders. You simply connect this box between your PXL2000 and DV cam, it runs on a 9v battery and comes with on/off switch and LED indicator. Waterhed's fully restored and bent Pxl's are unbelievably advanced and far different than any other pxl2000 on the market. WATERHED professionally restored and cleaned this cam to just like new, including new belts, clean blue lens, clean and adjusted tape path, several; other kinds of maintenance have been performed for better operation as well.
In case you aren't hip to the whole PXL2000 trip, it is a "KIDS TOY CAMERA" made in the 80's that shoots a pixelated black and white image to a audio cassette or to external vhs decks. WATERHED tweaks, restores, and improves them to BEYOND their STOCK BEST.... but if you get the CIRCUIT BENT VERSION it opens up even more realms of morphing fun.

WATERHED added several circuit-bent modifications to the restored camera:


1) a light level knob that allow the user to either lighten or darken the image, simply turn the knob left or right to dial it in to your taste.

2) brass contacts that when touched freeze the image on the frame, dialogues keeps rolling and very nice blurs can be caught, provides many very useful effects in real time.

3) rca audio and video output jacks to allow you to record to an external device there are hundreds of brand new visualizations with this camera.

4) bleed switch that makes images on the screen melt down like pixelated wax.

5) PLUS... a few BONUS BENT MODS were added to this ULTRA DELUXE BENT PXL2000 CAMERA that were CUSTOM BENT by WATERHED for BTM.

A - external mic 1/8" input jack
B - an on/off switch for light knob
C - multiscreen knob that creates very kool glitch

This is a very experimental camera with awesome capabillities, still the same fabulous pxl image we all love, only now with far more capabilities.

WATERHED is THE master of the PXL2000.

CHECK OUT a few STILLS shot by BIll T Miller with the BENT PXL CAM... HERE. STAY TUNED FOR SOME BTM PXL VIDEO.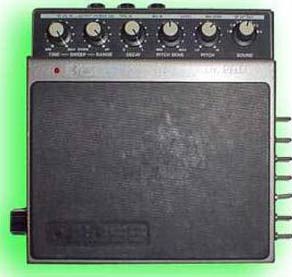 BENT BOSS DR. PAD-1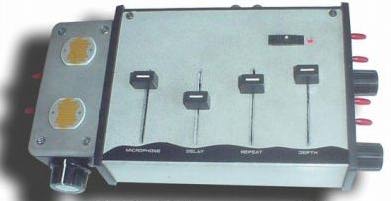 BENT REALISTIC REVERB TANK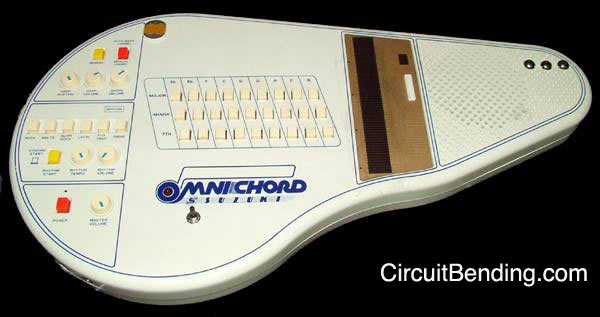 OMNICHORD
BENT by WATERHED for BTM
(INSPIRED BY JOKER NIES)

Years ago I remember seeing Daniel Lanois on Saturday Night Live playing this electronic autoharp thingy with Robbie Robertson and was quite curious. I did a bit of poking around and found out it was called an OMNICHORD. Then years later I saw CARLY PTAK of the noise band Nautical Almanac playing an omnichord with a RCA patch bay and some switches that had been circuit bent to freak out. Then I saw JOKER NIES at BENT 2004 circuit bending festival in NYC when I played there (as ORGY OF NOISE.) Joker flew over from Germany to cover the Bent Fest for Keyboards Magazine out of Germany. A champion of the OMNICHORD - he encouraged the audience (full of benders ) to go to his website and check out the circuit board pictures of the omnichord and all potential bends. He documents the bending of he bent omnichord that has dozens of body contacts and a built-in delay pedal. "BEND IT and we can start a BENT OMNICHORD ORCHESTRA." says JOKER.

Check out: Joker Nies - KlangBureau

Anyway, after getting back to Boston, I bought a vintage OM-27 model and then mailed it to WATERHED so he could do his custom bending magick on it. The Waterhed Bent Omnichord does NOT have dozens of body contacts or the built-in delay pedal (like Joker version) or the rca patchbay (like Ptak version) --- WATERHED adds his own spin to the Omnichord glitch strum fun.

1) Three way toggle switch = Stutter Glitch & Super Noise Glitch & Off
2) Large Optical Photo Cell for pitch bending with on/off toggle switch
3) Three body contact tacks for glitch control of pitch and vibrato
4) Flashing LED Light inside of O in Omnichord

STOCK INFO from SUZUKI SITE
Omnichord automatically plays the background music to your favorite songs by providing 27 major, minor or 7th chords that you select. Also choose from six drum patterns or activate the walking bass line. Omnichord can even be strummed like a guitar with the amazing 'Sonic Strings' touchplate. Just select a chord and run your fingers along the electronically charged touchplate. Omnichord does the rest, producing 4 full octaves of your pre-selected chord. Its beautiful professional sound is played through its own built in speaker and internal amplifier. Omnichord is so versatile. it's like playing guitar, organ, piano, bass and drums all the same time! And for concert hall sound, Omnichord can be plugged into your own stereo sound system.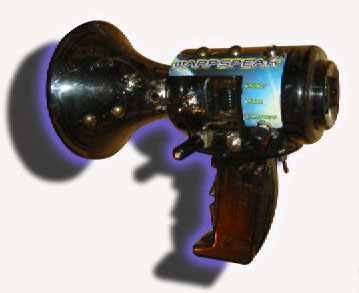 WARPSPEAK
BENT by WATERHED for BTM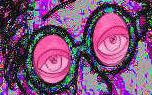 WATERHED is bender, musician, and filmmaker. In addition to bending toys, he does pro modifications on Fisher Price Pixelvision Cameras. Check him out at: Bentstruments.com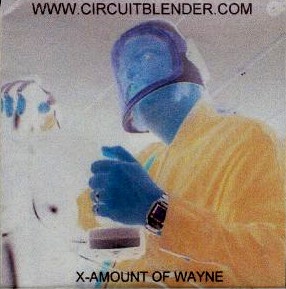 SEARCH EBAY.com for "Waterhed" auctions. (Sellers)

BACK TO BILL T MILLER's
circuitbending.com