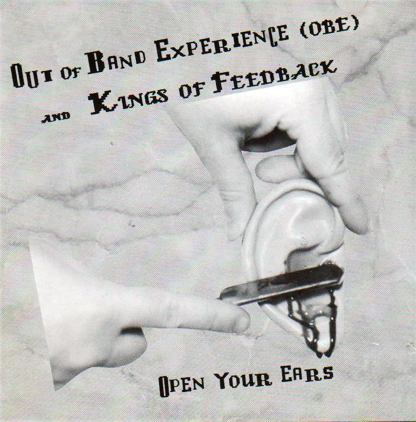 OUT OF BAND EXPERIENCE
Open Your Ears
OUR ONLY RULE WAS
VERY SIMPLE;
NO IDEA OR IMAGE
[OR SOUND]
THAT MIGHT LEAD ITSELF TO A RATIONAL
EXPLANATION OF ANY
KIND WOULD BE ACCEPTED
-LUIS BUNUEL
on UN CHIEN ANDALOU







BILL T. MILLER
Microdeck Samples/Bass/Stick/Guitar/Keyboards/Engineering/Production,ETC.
with ANDY DECKARD-Drums and JEFF COHEN-Stick/Keyboards etc...
BTM=OBE Noisefest with tons of special guests including...
*Roger Miller (Mission of Burma/no man)---------
*Reeves Gabrels (Bowie/BENTMEN)------
*Rich Gilbert (Concussion Ensemble/The Zulus)-----
*Rich Spillberg (Wargazm)-----------------------
*Malcolm Travis (Sugar/The Zulus)----------------
*Elaine Walker (DDT/Zia)------------------------
*Carol Page (Bloodlust: Conversations with Real Vampires-Author)
*Terry (Grief - Disrupt)
*Des (BENTMEN)--and MORE!!!
78 MIN DOUBLE LENGTH CD=OBE (43 MIN)+KOF (38 MIN)-27 CUTS
(original CD pressing is out of print)


OUT OF BAND EXPERIENCE (OBE)
LISTEN TO some OBE .wavs from the CD.

1-

OBSOLETE =BILL T. MILLER-(BTM)-MICRODECK SAMPLING, BASS, STICK
GUITARS, VOCALS / REEVES GABRELS-GUITAR / MALCOLM TRAVIS-DRUMS
2-

ANGIE BABY=BTM-MICRODECK,BASS
ANDY DECKARD-DRUMS, VOCALS, GUITAR, KEYBOARDS
JEFF COHEN-KEYBOARDS / ROGER MILLER-GUITAR
3-

SUCCUBUS-DOGGYSTYLE=BTM-MICRODECK, GUITARS, ALIEN
NYMPHO STIMULATION / JEFF COHEN-BASS STICK / JOHN BREGLIA-SLIDE STICK
PAUL BOBLETT-BASS / ANDY DECKARD-DRUMS / JORDAN-SQUEAK LICKS
+ FIRESTONE, YUKKI GIPE, NATALIE, CONNIE, ANGIE, VAL, ANN, XENEA AND MORE!
4-

GIMMICK =BTM-MICRODECK,GUITAR,VOCALS /ANDY DECKARD-DRUMS
RICH GILBERT-GUITAR / ROGER MILLER-GUITAR / SCOTT PALMER-BASS
DAN KELLAR-FIDDLE + RICHARD SINCLAIR, MICHAEL BLOOM, MATT RELAPSE
5-

GO =BTM- MICRODECK,GUITAR,BACK VOCALS
JEFF COHEN-VOCALS,STICK, SYNTH / REEVES GABRELS-GUITAR
JOHN BREGLIA-SYNTH / ANDY DECKARD-DRUMS
6-

YOU RANG=BTM-MICRODECK,BASS,GUITAR,VOCALS
ANDY DECKARD-DRUMS / TERRY GRIEF-GUITAR
DES BENT-PERSIAN SANTUR DULCIMER +LURCH
7-

ZA=BTM-MICRODECK,BASS,GUITAR,BASS SYNTH
JOE JAM-LEAD BASS RIFFS / ANDY DECKARD-DRUMS,GUITAR,SYNTH
C.B.-PIZZA DELIVERY+DR. LOUIS, MILTON
8-

TURN ON=BTM-MICRODECK,GUITAR,FLASHBACKS /JEFF COHEN-STICK
ANDY DECKARD-DRUMS / TERRY GRIEF-GUITAR / JOE BONNI-GUITAR
DES BENT-DULCIMER AND MUTTERING + JESCO-WARPED MIND, DR. TIM-DOSES
9-

ONE HELLUVA TWEEK=BTM-MICRODECK,GUITARS
JEFF COHEN-STICK / ANDY DECKARD-DRUMS / DEAN JONES-SCREAM
10-

SAMPLE THIS=
BTM-MICRODECK,BASS,DJCUTS,KEYBOARDS,PERCUSSION
ROGER MILLER-KEYBOARD SAMPLING NOISE / REEVES GABRELS-GUITAR
+ KURT LODER-"SAMPLING" + JOHN PEEL-PHONE IN
11-

BLOODLUST =BTM-MICRODECK, STICK, GUITARS, PIANO, DRUMS, VOICES
CAROL PAGE-AUTHOR OF THE BOOK & VOICE
***

BLOODLUST: "CONVERSATIONS WITH REAL VAMPIRES
+SPECIAL THANKS TO ALL OF THE VAMPIRES WHO DONATED.
12-

ALIEN ANDROID SUCCUBUS=BTM-MICRODECK,KEYBOARDS,ALIEN
NYMPHO STIMULATION / LUKEWARM-OCTOPAD DRUMS, BASS SYNTH
ELAINE WALKER-ALIEN VOCALS, OCTOPAD SYNTH
ROGER MILLER-SAMPLING / MALCOLM TRAVIS-TOMS
PETER SCHWARTZ-TOMS + JOHN EYE-(ONE OF US),
+ANGIE, CONNIE, DEE DEE, TAMARA, ANN, VAL, XENEA, MARSHA AND MORE!
=(DROID Remix out on Castle von Buhler CD compilation)
13-

SUB-G SPOT=BTM-MICRODECK
"BOB" AND CONNIE-XXX PHONE SEX ORGY
14-CALL NOW!=BTM-MICRODECK
PHONE-INS: RUSS SMITH, EVOLUTION CONTROL COMMITEE,
JILL, DAVE Y, WENDY SHLENSKY, BOB GAY, TIM MAY,
PATTIE "pretend orgasmatic frenzy" DOLAN,
RICH SPILLBERG, RALPH DIAZ, "BOB" DOBBS.
CALL FOR FREE GIFT STICKERS/INFO!
(all OBE cuts from split CD "open your ears" with KOF)
CHECK OUT the KINGS OF FEEDBACK portion of the CD.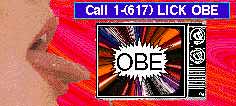 *OUT of BAND EXPERIENCE (OBE)
wacko weirdo alien orgy samplefest indusdroid
freak out subversive experimental noise rock trip!
(more samples, more Stick, more electronix, and more SEXXX)
DOWNLOAD MP3s of COMPLETE CD
OBE WAV and REAL AUDIO SOUNDS
Call Now! | NEXT OBE page!
BTM ORGY | Email Bill T. Miller