DON'T
Call Now!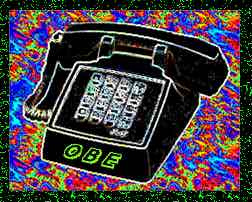 1-(617) LICK OBE
HAS BEEN TURNED OFF....
The phone line started as 1-800-OUT BAND in 1989 and mutant OBE fans called the toll free number after hearing the first OBE single with it's CALL NOW advert spoof and promise of FREE GIFT STICKERS. The callers left weird messages that were sampled and slammed back into mixes on Out of Band Experience (OBE) music/noise releases by mutant mixmaster musician Bill T Miller at his studio HEADROOM.
The original OBE - "Groatclusters" Flexi-Disc (1989) - "Call Now! 1-800-OUT BAND" album (1990) - OBE and Kings Of Feedback CD "open your ears" CD (1994) and a few other BTM release have bits and pieces of the phone messages on them. There's even MORE messages stayed away on a box full of micro-cassette tapes that are waiting to be sampled and tweaked.

The 1-800-OUT BAND toll free phone line was active 1989-94 and then it was changed to 617 LICK OBE which has been alive from 1994-2004.

It's the END OF AN ERA for the CALL NOW and LEAVE A WEIRD MESSAGE and GET A FREE GIFT OBE GAME... but if you actually need to TALK to BILL T MILLER just CALL: six one seven - two five four - two five one nine and leave a message.
CHECK OUT....
OUT OF BAND EXPERIENCE (OBE) Website

http://obetv.com

CDs, LPs, 7inches, videos, free mp3s and more info are waiting for you.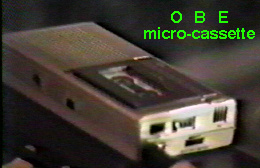 BILL T MILLER