KINGS OF FEEDBACK-SubGenius
"SLACKFUX DEVIVAL"
KNITTING FACTORY
AlterKnit-NYC=November 2, 1996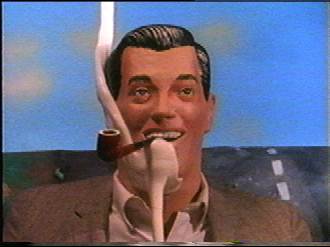 Praise J. R. "BOB" Dobbs!!! Church of the SubGenius Guests include:
Rev Dr.Dr. (Mr. MD) David N. Meyer, Pope of New York City,Idaho and
the Great PacificNorthwest, Isness of the Business,B(eloved) O(f) (B(ob)!
+++ Kid Ginsu!!!! Rev. Dr. J. Victor Stark, the Grand Clavister of NYC
Rev. Nickie Deathchick, Pastor Craig, Rotting Resurected Flesh of LEGUME
Zombie Clone of "BOB" and myself....
RevDOK BTM heaved out USED SLACK, ANTI-MUSIC and Launched'Heads!!!
Open Your Third-Nostril to the Anti-Musick! ...or KILL ME!
---
HERE's the Slackfux SPEW....

*RevDOK BTM (KING OF SLACK) and KID GINSU!!!!!!!!
= Slackfux INTRO/SACRED MOMENT OF NOISE!

* POPE DAVID MEYER
= MEGA-SPEW RANT info-mercial sermon entitled "MY PRODUCT IS YOU!"
THIS is the SLACK_INFO that could CHANGE YER LIFE!

*KINGS OF FEEDBACK....... Mega_DOSE of KOF anti-MUZIK NOISE!
Indusdroid Blues Slack Sludge Hardcore NOISE Rock "Band"
KOF= "LIVE" altar-ego of experimental weirdos-Out of Band Experience.
KOF unleashed a HEALING OF Anti-music SLACK! In fact it may have been
MORE NOISE than MOST of the alt.slackfux could endure in one dose!

PURE UNCUT SLACK KOF Heap of NOISE. ALL the KOF favorites,
including "USED SLACK" AND KILL "BOB"....PLUS in a special TRIBUTE to
some of my FAVE DOKTOR bands, KOF BUTCHERED some of the SubG
anti-muzik CLASSICS from "Docktors for "BOB"" -"SWINGIN' LOVE CORPES"
- "BROTHER CLEVE" and MORE in a MUTATION of SOUND called the
"SLACKFUX MEDLEY".


We closed the KOF portion with "KILL "BOB"" and POPE MEYER snapped me
out of my ANTI-bob possesion and I repented screaming PRAISE "BOB"!!!
Bear witness to the moment where the X-ist entity now known as the
KING OF SLACK took possesion of humanoid Doktor BTM.
Praise "BOB" - Praise "BOB" - Praise "BOB" - Praise "BOB"
Praise "BOB" - Praise "BOB" - Praise "BOB" - Praise "BOB"
---

* GRAND CLAVISTER = MINI-SPEW RANT (+A Quickie Short-DUR MARRIAGE)
* REV NICKIE DEATHCHICK! This was CLIMAX of the DEVIVAL!
= Alt.slack GODDESS uleashed her SubGENIUS
DEATHCHICK SPANKING RITUAL!

"Thwwaack...Can you feel the GUILT DEMONS leaving your body,
as I SPANK YOU? Do you NEED MORE......?"
---
*Resurrected the ghost of LEGUME, dragged his RESURRECTED CORSPE
of SOUL up to do a MINI-SPEW ...."LIVE in the FLESH"!!!

* THEN....the MANDATORY "SACRED HEAD LAUNCHING" of sorts....all the
REAL PALMER HEADs in NYC have been launched and/or desacrated so ....
with the help of all the SLACKFUX Preachers and Doktors and KEEPER
OF THE HEAD-KID GINSU....I LAUNCHED the HeaD of the Unknown Slackfux!

* PASTOR CRAIG= MINI-RANT SPEW

REV. STANG was at the KOF SLACKFUX DEVIVAL in SPIRIT! He LIVES in
various STANG SLACK SAMPLES in The LIVING KEYBOARD SAMPLER!
---
ALSO....notice the DATE==== NOVEMBER 2.....It is NO COINCIDENCE that
this DAY is known as the "DAY OF THE DEAD!"
---
More info on KOF "LIVE"....Who,what,why etc!

---
RevDOK BTM-KING OF SLACK
Subgenius DOKTOR ready to perform
HEALING SLACK SURGERY at DEVIVALS!

To book KING OF SLACK-RevDOK BTM
at yer SubGENIUS DEVIVAL...
Call 1-(617) Lick OBE or Email BILL T. MILLER

*SLACKtheFUX OFF and PRAISE "BOB"! =RevDOK BTM



---

Rev. Stang's SUBSITE OF SLACK= Latest Devival Scoops!

[][][][][][][][][][][][][][][][][][][][]

BACK to the BTM ORGY WWW Site!

{}{}{}{}{}{}{}{}{}{}{}{}{}{}{}