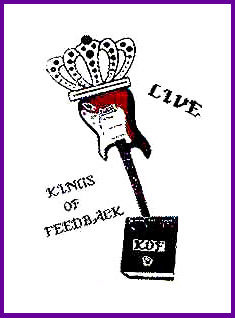 INSERT EARPLUGS NOW!
KINGS OF FEEDBACK are the
INDUSTRIAL BLUES SLACK
SLUDGE NOISE ROCK
ALTAR-EGO of OBE

* BILL T. MILLER=
Bass & Guitar & Samples & Vocals & Rants

* VERNON TART=Vocal Ranting & Slide Guitar Feedback

With a heap of LIVE & STUDIO KINGS...

SEAN O'BRIEN=Guitar & Bass & Backing Vocals
DOKTOR SKILL=Guitar & Slack
PETER SCHWARTZ=Drums
JASON KING=Drums
ANDREW WILSON=Guitar
ANDY DECKARD=Drums
MARK GRUDINOFF=Drums
MARK MASTRELLA=Drums
STEVE KILLROY-Drums
DAVE WENTWORTH=Drums
JON D'UVA=Live Tech & Guitar
PLUS...
BILL "DES" DESMOND=Vocal Ranting
JOHN TESCHER=Guitar
BOB=Disrupt * DOUG=Fleshflower
TERRY=Grief * ELAINE=Zia
ROB=Zia * Marc=Quintaine
ROGER MILLER=No Man
SMELLY and MELT-BANANA


KOF played EIGHT RARE "LIVE" Shows!

5/11/94-The Rat-Boston-High Defiance, Electric Hellfire Club
6/94-Middle East-Cambridge with High Defiance, Stickmen
8/94-Middle East-Cambridge- Dog, One Of Us, Bongo Fury
9/??/94-The Rat-Boston-with High Defiance, Toxic Narcotic
2/07/95-Bill's Bar - Boston (Thanx to: HypeTV and Barry Hite-Live Sound)
9/30/95-Club Babyhead-Providence, Rhode Island- with Holy Cow
10/06/95-Middle East downstairs-Cambridge-ANON-Women of Sodom
11/02/95-Knitting Factory-NYC-Slackfux Devival with Pope Meyer

Check out: KINGS OF FEEDBACK - RULES CD!
Several LIVE KOF songs are out via Quicktime Video
Two complete KOF gigs are out on the KOF LIVE Cassette.
PLUS...KOF-SubGenius SLACKFUX DEVIVAL is available on Cassette!
KING OF SLACK-RevDOK BTM
Performing Healing/Sickening DOKTOR Sugery at DEVIVALS!
SlacKfux Devival NYC- 95
Boston Slack Crusades 96
X-Day Drill-96
X-Day Drill-97
Boston X-Files Devival-98
X-DAY- JULY 5, 1998 - RUPTURED



KING OF BASS=BTM | MORE KOF
BTM ORGY EXPERIENCE | Email Bill T. Miller