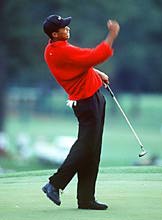 Dok BTM sez....
Rumor has it that the NEWEST LIVING GOLF LEGEND *TIGER WOODS*
has been Chowin' Down and PowerSlackFuckin a heap of PRARIE SQUID
on his whirlwind climb to the TOP.

"BOB" knows the supply of GENUINE Arnold Palmer Heads is scarce.
(We had to LAUNCH a Simulated Bleedin Head at the
SLACKFUX DEVIVAL in NYC.)

At some point we will be able to get the REAL PALMER HEAD to the
LABORATORY to CLONE some more ARNOLD HEADS...until then,
*TIGER* is our best bet for BACK-UP HEADs to LAUNCH!

Word is, the TIGER HEAD doesn't actually BLEED....BUT it DOES
SPURT and OOOOOOZE actual USED PRARIE SQUID JUICE.

The Beloved TIGER knows there is NO HONOR higher in GOLFING,
than to be the CHOSEN as the SubGenius LAUNCHIN HEAD.

FORE!!!!!

Tarla sez...
I've also heard that the Tiger Woods head acutally causes your swing
to be more fluid and gives you better distance on the launch, but
maybe that's all just hype.

Rev. Ivan Stang sez....
SQUIRTING HEAD GOOD!!! PEELED HEAD BAD!!

ORGY OF SLACK | BTM ORGY | Email Dok BTM