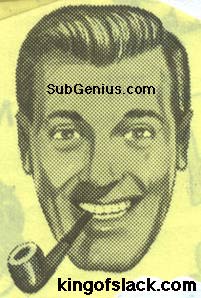 ETERNAL SALVATION
OR TRIPLE YOUR MONEY BACK
AT LAST -- IT HAS COME --
the final Do-It-Yourself
END TIMES RELIGION
for SWINGING MUTANTS &
TERMINAL ABNORMALS!
The Church of the SubGenius
The World's First Industrial Church
"Breaking the Tolerance Barrier"
DOK BTM-King Of Slack
SubG DEVIVAL Surgeon
LIVE WITH YOUR SINS!
J. R. "Bob" Dobbs Can Show You How!
DRIVEN TO THE BRINK OF SANITY BY THE CONSPIRACY'S FALSE
REALITY AND THE PRESSURE OF A CRUMBLING WORLD?? THEN
THIS MAY BE FOR YOU!
You might be SO OUT OF IT that YOU DON'T EVEN KNOW WHO
"BOB" DOBBS IS. Even worse, you may not care! Of course, there's
considerable pressure to keep you from caring whether you care
or not, and it's so much easier to just let that weight keep you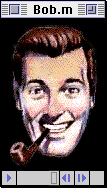 slowed down ... you're used to it... you can take it... it's a
living ...you'll just go on about your job ... doing what you're
told...because everything we say from here on out is going to
sound like UTTER INSANITY to you; at least, if you're NORMAL
it will... ...uh... ...you are NORMAL, aren't you?

WAKE UP!! Snap out of it!
REPENT!! QUIT YOUR JOB!!
SLACK OFF!!!

YOU CAN LEARN TO THINK FOR YOURSELF-
BUT ONLY "BOB" CAN SHOW YOU HOW!



INSTANT INSTRUCTIONS FOR THOSE WHO FOLLOW NO MASTER!

Technically, this organization cannot exist -- because it is composed
of people who are not joiners. The only thing most SubGenius have
in common is that they're ALL DIFFERENT -- and they have NOTHING
in common with the C.O.N.S.P.I.R.A.C.Y.!

"FUCK 'EM IF THEY CAN'T TAKE A JOKE."

J.R. "Bob" DOBBS -- the High Epopt over all SubGenii -- is no
worn-out, overused deity from thousands of years ago, but a
LIVING, BLEEDING DIETY FOR TODAY. "He is the Sales Man,
the Now Man, the Man of Tomorrow, and the Key to the Gateway
IS HIS PIPE." (Godecclessians 3:14) It is because The Conspiracy
fears him to the depths of their lizard souls that they try to water
down his terrifying message -- and would even deny that he
exists at all!

"BOB" is the MYSTIC SUPERSALESMAN on whose WHEELING AND
DEALING SKILLS the FATE OF THIS UNIVERSE DEPENDS!! "BOB"
is HE who has come to AWAKEN US to the SLACK that has been
robbed from our kind for CENTURIES -- the ONLY INTERCESSOR
between MANKIND and the STARK FIST OF REMOVAL, that
all-smashing force from Above which we must simultaneously
placate and defy.


NOTE TO TRUE SUBGENII: DO NOT SHOW THIS MATERIAL TO FULLBLOOD
HUMANS. The humiliation of finding out the truth
would be too much for their PATHETIC HUMAN MINDS.
Or, even worse,they may believe they are SubGeniuses!
NOTE TO HUMANS: Why are you even bothering to read this? You don't "get" it...
it seems obnoxious to you... you this it's "stupid"...because,
although we understand how you think ALL TOO WELL, you
can't for the life of you understand how we think.
THE PRECEDING PAGE ARE EXCERPTS FROM SUBGENIUS SLACK
PAMPLHET #2
FOR ONLINE SLACK TANGLE IN THE WEB OF
SUBSITE- subgenius.com
SLACK IS | BTM ORGY | Email Dok BTM