---
Enter the realm of mutant musician engineer producer remixer photographer filmmaker etc...
BILL T MILLER
---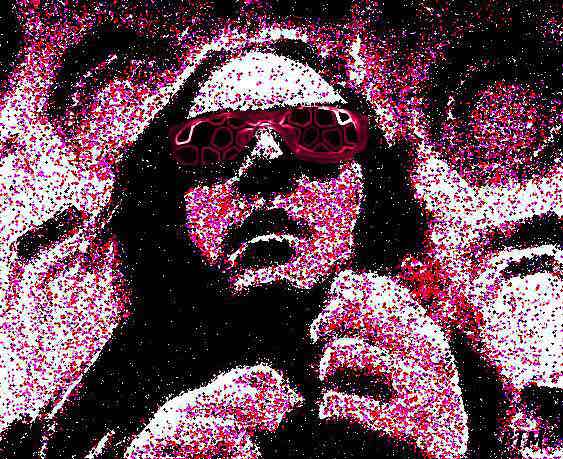 ---
2003
DOWNLOAD MP3 OF
NO BLOOD FOR OIL by OBE
---
2002

OCTOBER 31, 2002
MP3 ORGY CD - New Version 4.0 Released

JANUARY 2002
HEADROOM STUDIOS has just moved to a new space in ALLSTON, MA and has a heap of kool new fun toys!
---
2001
I have been so busy doing it in 2001, that I never quite got around to updating this news section at all in 2001.
---
2000
THE NOISE - BEST OF 2000 POLL!
THIRD BEST WEBSITE in the Boston rock scene, goes to billtmiller.com - mp3orgy.com as voted on by The Noise Magazine's Readers Best Of Poll. Congrats to first place website: rockschool.com. Extra special thanx to T Max and anybody who voted for my sites.
---
TONS OF FUN...
Winding down to the end of 2000, HEADROOM is jamming: Kranked out a BTM REMIX of THE KRANK SQUAD's N.K.O.T.B. song which is a bonus cut on their CD. Cut all the basic trax for a new WEBBER KEETH CD. Recorded and mixed some compilation and split 7-inch songs for hardcore thrash band, MELEE. Finished up a SATURNALIA song for Elliot Sharp's State of the Union CD compilation. Recorded Shotgun Remedy doing a Metalica cover for a comp CD. OBE song RECYCLED FLASHBACK appears on the DROPLIFT compilation CDs which features 30 culture jamming sound collage artists from the Negativland "Snuggle This" email list. Look for a BTM REMIX of fellow Droplifter artist, STOP CHILDREN of the song "Have You Seen My Baby." Now that Rev. Stang has his own CD burner, several new and re-released SubGenius.com compilation CDs have been unleashed that have OBE, KINGS OF FEEDBACK and KING OF SLACK on them. As we all know, TOO MUCH IS NEVER ENOUGH, so new BTM - OBE tunes being jammed, looped, tweaked, and mutated for release in 2001. That's just SOME of the FUN FUN FUN.
---
DOMAIN NAME OVERLOAD
billtmiller.com
mp3orgy.com
obtv.com
kingsoffeedback.com
orgyofnoise.com
kingofslack.com
drumarmy.com
---
MP3 ORGY CD - Version 2.2 is out now.
The mini-website on the CD has been tweaked and expanded.
Includes even more MP3s:
* OBE RADIO - hour long cd with DJ BTM (1993)
* OBE - TechFreak (rawbeatz mix) - NEW OBE (2000)
* OBE - Recycled Flashback (droplift cut) NEW OBE (2000)
* Saturnalia - (formica foam mix) NEW BTM REMIX (2000)
QUICKTIME VIDEOS
* BTM - Headroom
* OBE - Call Now!
* OBE - Insane Genius
* KINGS OF FEEDBACK - Kill "BOB" (studio mix)
* KINGS OF FEEDBACK - Kill "BOB" (live gig)
* Doktor BTM and Rev. Stang - You Rang
* SLACKBANGERS -"BOB" Is Luv
MP3 PLAYER SKINS
OBE, KINGS OF FEEDBACK, ORGY OF NOISE,
DRUM ARMY, KING OF SLACK, and MP3 ORGY.
Skins available for these mp3 players.
* WInAMP 2.x
* MacAMP 1.0b7
* SoundJam
MP3 ORGY.com Version 2 is available for TEN BUX.
IF yau don't need all the extra videos, skins, mp3s etc,

---
MP3 ORGY.com CD-ROM released!
Experience over 100 MP3s from ExtraTerrestrial Discs recording artists: OBE, KINGS OF FEEDBACK, DRUM ARMY, KING OF SLACK, SLACKBANGERS, and ORGY OF NOISE! PLUS... ALL of these MP3s are available for FREE DOWNLOAD.
READ the Press Release for MP3 ORGY.com CD
---
WinAMP MP3 PLAYER SKINS
Download free MP3 ORGY, OBE, ORGY OF SLACK, DRUM ARMY, and ORGY OF NOISE skins.
---
OBE - ALIEN ORGYFEST CD Released!
All the X-rated OBE songs on one CD. You just can't get enuf of a good thing.
---
OBE - NERD REMIX CD Released!
NERD with REMIXES, and NEWEST OBE CUT: TechFreak - rawbeatz mix.
---
OBE - RADIO CD Released!
Hosted by DJ BTM, this is a rare OBE RADIO HOUR, now available for re-broadcast. Features OBE, KINGS OF FEEDBACK, DRUM ARMY, ARCHAEOLOGISTS OF NOW TIMES, THE REALISTICS, and SKANK. STREAMING QUICKTIME OBE RADIO via AMPCAST.com.
---
AMPCASTcom unleashes streaming radio and videos!
THANX to JIM and the gang at AMPCAST...OBE, KINGS OF FEEDBACK, and BTM videos have been converted and tweaked to Quicktime format and are streaming on the net and will soon be available on the MP3 ORGY CD-ROM.
---
Idiot Stare World Deconstrution REMIX CD!
has been released as a MP3.com DAM CD and features
remixes by Biopsy, Society Burning, Fishtank No. 9, Boneyhands,
Ipecac loop, Noxious Emotion, SMP, biofeedback, Annodalleb, and
BILL T MILLER of OBE doing remixes of songs from their Hate Cage CD.
---
Boston's Weekly Dig Magazine
has an issue on ALTERNATIVE RELIGIONS with an article on the anti-religion religion, The Church of the SubGenius and it's deity scpapegoat, J. R. "BOB" DOBBS, penned by DOKTOR Bill T Miller, the part-time KING OF SLACK. READ THE ARTICLE ONLINE.
---
BBC DJ John Peel spins KINGS OF FEEDBACK!
KOF's song Geetar Gawd, and the BTM remixes of Melt-Banana and Plainfield were played on Peel Radio Show on September 28-30, 1999. Peel also played OBE's Warning: Danger back in 1993.
---
T-Shirts, Mugs and Mouse available!
Full Color T-SHIRTS (front and back)....MUGS and even MOUSEPADS, for all the the BTM BANDS are available from Cafe Press.
---
Bill T Miller featured on AMPCAST.com MP3 site!
Ampcast has a bio, review, and a ton of BTM MP3s.
---
BTM Remix-O-Rama CD released!
Tons of BTM remixes from: OBE, Kings Of Feedback, Grief, Idiot Stare, Austen's Dead, Melt-Banana, Plainfield, Max, Scrapple, and MORE.
---
TONS of BANDS in the STUDIO with BTM.
Austen's Dead, Nightstick, shotgun remedy, WarHorse, Cops On Crutches, Digital Blue, The Anchormen, Scrapple, Castrati, The McVeighs have cut tracks at HEADROOM. BTM is whippin' up more new OBE tunes and remixes at HEADROOM. Plus, the latest Grief CD was recorded at Supersonic Studios. Check out complete ARTIST LIST.
---
HEADROOM STUDIOS adds tons of DIGITAL GEAR!
Now jamming and remixing the bleeps and bits with a Macintosh G-4, Dell Pentium II , Alesis LX-20 ADAT, Glyph Baracuda Hard Drive, Glyph/Yamaha CD-Burner and goodies like Digidesign's Pro Tools 5 with a digi 001, Mark of the Unicorn's Digital Performer, Steinberg's Cubase, Mixman's Studio Pro, Sonic Foundry's Acid Pro, Sound Forge, Fruity Loops, Rebirth, Logic Audio, Cakewalk, Reaktor, SimsSynth, and much more. PLUS, the newest score is a vintage CASIO SK-1 Sampling Keyboard.
---
ORGY OF NOISE CD released!
Ya want NOISE...come and get it. BTM jamming with guests:
Melt-Banana, Smelly (Plainfield), Rev. Ivan Stang, Terry (Grief) and more.
---
KINGS OF FEEDBACK - RULES CD released!
Industrial blues slack sludge noise ROCK.
Heavy, man...HEAVY. ON SALE for FIVE BUX!
---
More compilation appearances!
Re-pressing of Heavy Hardcore Headroom CD comp.
KOF & Orgy of Noise on Boston Underbelly CD comp.
Kings Of Feeback on Hungry Lad? 7-inch comp.
Orgy Of Noise on the Noise in the Net D.A.M CD comp.
KOF & Orgy of Noise on Broken Guitarz tape comp.
KOF on Politically Erect - Fringe Music Compilation
ORGY OF NOISE on Noise Conglomerate Vol 3 CD-R Compilation