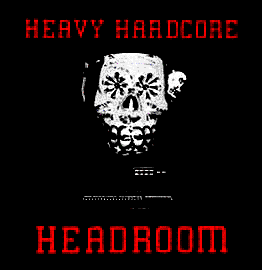 Heavy Hardcore Headroom CD is a compilation
of bands recorded by Bill T Miller at Headroom.
These bands were recorded in a raw anti-production
style and are from the 1990-95 era of Headroom Studios.

Co-Released by IZUMI at PEFE (All Systems Fail) and
BTM's ExtraTerrestrial Discs.

Disrupt | Grief | Dropdead
ChickenChest and the BirdBoys
Kings Of Feedback | OBE

Showcase Showdown, Devoid Of Faith, Hail Of Rage, ChickenChest,
Deformed Conscience, The Mind Parasites, Coleman, Trent,
Dissension, Toxic Narcotic, Conniption, and Disfuse.

___________________________________________
* HHH (BTM Samplefest Intro)
___________________________________________
KINGS OF FEEDBACK
* DEAD ANTS
* KILL "BOB"
* LOCUST
___________________________________________
DISSENSION
* STAGNATION
* TRIBAL CRY
___________________________________________
HAIL OF RAGE
* PURITY
___________________________________________
DEFORMED CONSCIENCE
* KEPT ALIVE TO DIE
* HALO EFFECT
___________________________________________
DROPDEAD
* AT THE COST OF AN ANIMAL
* BULLSHIT TRADITION
* NO GLORY
* WAKE OF DECEPTION
___________________________________________
THE MIND PARASITES
* THE MIND EATER
___________________________________________
CONNIPTION
* PERVERSE CREATION
___________________________________________
DEVOID OF FAITH
* CONQUEST
___________________________________________
DEAN JONES-(ENT)
* KILLER OBE Guest SCREAM
___________________________________________
OUT OF BAND EXPERIENCE (OBE)
* YOU RANG
* A LETTER
___________________________________________
TRENT
* GLASS HAND (Outer ReMix)
___________________________________________
GRIEF
* THORAZINE -RALPH DIAZ
* I HATE YOU
* TRUST
___________________________________________
DISRUPT
* LACK OF INTELLIGENCE
* GOD FEARING CITIZEN
* VICTIMS OF TRADITION
* SLAVE TO STUPIDITY
___________________________________________
COLEMAN
* NECESSARY MEGAHERTZ
___________________________________________
TOXIC NARCOTIC
* STATE OF AFFAIRS
___________________________________________
SHOWCASE SHOWDOWN
* BARK THE VOTE
___________________________________________
CHICKEN CHEST and the Bird Boys
* NO CONCERN FOR ACCEPTANCE
___________________________________________
DISFUSE
* DUMKRIG
* VIVISECTION
___________________________________________