hungry lad?
7-Inch Compilation includes:
Diskonto
Direct Action
Armistice
Hooligan Riot
Kings Of Feedback
---

KINGS OF FEEDBACK
Bill T Miller-Bass, Samples, Guitar, Screaming
Andrew Wilson-Guitar * Peter Schwartz-Drums
Agata-Guitar * Yasuko O. and Smelly-Screaming

Recorded by BTM at HEADROOM STUDIOS-Boston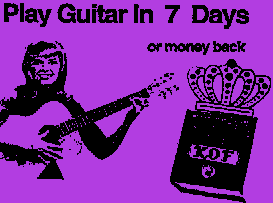 GEETAR GAWD
With your thumb pressed against the
back of the guitar neck, your fingers
should always press down firmly on
the strings, just to the left of the fret.

Picking and strumming are done with the
right hand, the left hand plays the chords.

Now taking the pick, hold it loosely
between your first finger and your thumb.
Keep your wrist loose and strum
downward across all the strings
That sounds like fun!

BTM sez...
"Some PUNKS tend to spew a heap of politics and anarchy, BUT do very little to actually HELP people and animals. Secretly wishing to be a GUITAR GOD, but too lazy to learn how to actually play their instrument. Sadly, just like the 60's hippies, MOST of US fall into this attitude of having good intentions and ideals, BUT doing ALMOST nothing. This KOF tune...GEETAR GAWD, leaves the political ranting aside and gives you a NOISE GUITAR LESSON SPOOF. KOF is joined by GUEST appearances by AGATA and YaSuKo O. of Melt-Banana, along with Smelly of Plainfield."



KingOfFeedback.com
---

DISKONTO
Martin- Guitar
Steffe- Vocals
Danne- Bass
Jonas- Drums

eko marodorer
DISKONTO Standpoints:
(as stated on their web site)

Diskonto is a political band that wants to bring fourth their anger and aggression against the current system.
Diskonto supports the struggle against sexism.
Diskonto thinks that everyone has the right to have whatever sexual preferences that they want, without getting oppressed for it.
Diskonto despises animal testing and animal torture/breeding/slaughter.
Diskonto despises capitalism, imperialism and thinks that an armed revolution, and afterwards the building of a society built on consensus instead of conflict is the only solution.
Diskonto also despises so called "peace-punks" that havenít understood shit. Violence is, unfortunately, the only solution in long terms. Naturally all actions doesnít have to be violent, only when that serves the goals. Direct action! Militant resistance! @ is freedom!
Diskonto do not like pigs, which is the states stormtroopers against the people.
Diskonto rejects bands that sells out to major labels or distributors. They can suck our dicks and die!
Diskonto believes in ideas of struggle between classes, and that the working class always, in a capitalist society, must stand against the ruling class. The boss is always your enemy.
Diskonto despises authority in all itís forms. Cooperation, not competition!

Check out DISKONTO Web Site for more info!


---

DIRECT ACTION
Chris- Drums/vocals
Angie- vocals
Tim- Bass/vocals
Steve- Guitar/vocals

ECO DEFENSE

DIY NOT EMI


they don't care for you
money's all they want

diy not emi
do it your fucking self

they don't care what you say
all you get is the 15 min. of fame
your used and thrown away
and to the next band it's all the same


---

ARMISTICE

PRIDE IN UNIFORM
JOINING THE ARMED FORCES
& BE ALL YOU CAN BE
OFFERED EMPTY PROMISES
A GREAT FUTURE'S ALL YOU SEE

PRIDE IN UNIFORM - STUPIDITY'S ALL I SEE

MUST UPHOLD THE HONOR
OF FATIGUES & UNIFORM
DON'T DISGRACE YOU FOREFATHERS
OR THE OATH YOU HAVE SWORN

YOUR UNIFORM WITH MEDAL GLEAMING
& YOUR MANY WAR STORIES
YOU HAVEN'T LEARNED A THING
ONLY HORRIFYING, SICKENING GLORY

POOH BEAR
100 Aker Woods
Wilmington, CA 90744 USA



---

HOOLIGAN RIOT:
jim hate- bass/vocals
rus riot- guitar/vocals
todd dispair- guitar/vocals
shad jerkoff- drums

not the state
the american dream is a fuckin joke
force fed lies for your vote
i believe in freedom and not the state
not this country built on hate
you take it in everyday
we are the hunted and the prey
follow the lines and do what they say
the system is shit and its going away
i wont do what you say
live my life my own way
do what you want when you choose
say fuck off to all their rules

circus of doom
legions of armies
pawns for the generals games
circus of doom
multitudes of aresenals
shrines of worship to the bloodsport
circus of doom

hooligan riot are four punks who get fucked up and dont care about which direction the scene shifts, we just plain out love 80's crust, we like to play fukin noise, fast and raunchy. we are anarchist and we say what we feel. not what is pc or typical. we might offend or piss people off with songs like wipe your ass with crass or throw the bomb. the punks that claim to be the peace/anok punks react displeased and tell us that we should not play songs like this and spread messages like this. well, reconsider before you consider!


---