Are YOU an ABNORMAL MUTANT with a yearning for SLACK? Then the anti-religion Church of the SubGenius may be just what you are seeking. This blasphemous self-mocking ufo sex cult was founded in 1980 by millionaire businessman, J.R. "Bob" Dobbs to help you get back the SLACK that the CONSPIRACY stole from you. Dobbs is a wheeling and dealing supersalesman who rose to fame and fortune in the late fifties as "the man who could sell anything." He encourages members of his flock to KILL HIM, vowing to resurrect and cum again and again. Some religions prey on your guilt, fear, and hatred by threatening you with the evil boogie man satan. The anti-bob is the SubGenius anti-christ equivalent and is essential to balancing the LUCK PLANE OF SLACK. Another factor in this equation is "BOB's" primary mate CONNIE DOBBS, who some claim is the true power of The Church and "BOB" is merely her puppet.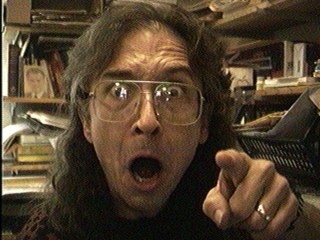 Unlike other celebrity cults masquerading as non-profit religions that will purge you of yer sins and save yer soul, "BOB" encourages you to SIN and SPEND FREELY. IF you JOIN by sending in a mere THIRTY DOLLARS for a LIFETIME MEMBERSHIP, you will be guaranteed "ETERNAL SALVATION OR TRIPLE YOUR MONEY BACK!" Slackmeister "BOB" lured in IVAN STANG and PHILO DRUMMOND to actually run the organization by tempting them with promises of SLACK, CASH, and ALIEN SEX ORGIES. Reverend Stang became the Right Hand of Dobbs, channeling tons of Sacred SubGenius Books, Videos, CDs, Tapes, T-Shirts, and various products in the name of "BOB." Stang travels the universe preaching the word of Dobbs at SubGenius gatherings known as DEVIVALS. He hosts the Hour Of Slack Radio Show, which can be heard on dozens of radio stations and on the Internet.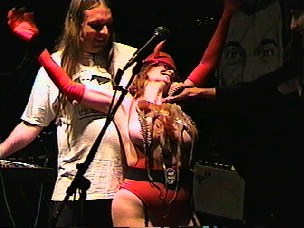 This DIY, Roll Your Own, Have it Your Way CULT is composed of people who are not joiners, but unite because they are all DIFFERENT and HATE the evil PINK CONSPIRACY empire that is draining them of their SLACK. YOU may have the SubGenius gene dormant inside of you right now begging to be unleashed. The only way to satisfy this yearning is to WHIP OUT YER MONEY RIGHT NOW and become a full-blown card carrying member with the right to do anything you choose. While yer at it, show yer faith even further by buying a Dobbs T-Shirt and the sacred ORGY OF SLACK CD. As a member you can ordain yourself as a Reverend, Pope, Pastor, Rabbi, etc, and preach and/or mock Dobbs teachings. Doktors or Surgeons, the equivalent of a church choir and organist, aka ANTI-MUSICIANS, unleash a healing barrage of SLACK NOISE. (See sidebar.)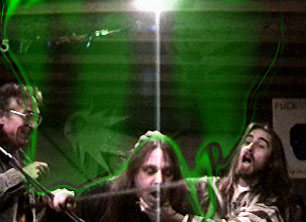 The SubGenius Sacred Dogma is constantly distorted and reinvented. There are those who claim DOBBS piloted the saucers that abducted the humanoid "virgin" mary, who gave birth to the alien love child long-haired hippie freak jezus. Dobbs was also rumored to have ghost-written the book of revelation which appears in the romance novel action adventure comic book known as the bible. In a P.T. Barnum-like spin, Uncle "BOB" even guided the young jezus to his glorious crucifixion publicity stunt, manning the sales tables full of t-shirts and various products. Dobbs even auctioned off the nails and the cross. Sadly in now times, jezus is just the poster boy for hate and segregation by right wing conservatives who drink his blood as wine and eat his flesh as communion wafers in a sick drunken vampyre cannibal ritual.

Slogans like "FUCK 'EM IF THEY CAN'T TAKE A JOKE" may lead you to think this is all fun and games. Well, dear friends, YOU CAN NOT AFFORD TO IGNORE THIS. Space aliens, known as the X-ists are standing by ready to purge the earth of anyone who is NOT a paid-up member. Dobbs has brokered a deal where his followers will be RUPTURED aboard the alien pleazure saucers where every hidden desire is fulfilled.
YOU DESERVE SLACK BEYOND YOUR WILDEST DREAMS!
SALVATION AWAITS YOU - IF YOU
SubSite of SLACK - http://subgenius.com/
Send $1 for INFO or $30 for MEMBERSHIP to:
Church of the SubGenius - PO Box 140306 - Dallas, Texas 75214 usa
Penned for Boston's Weekly Dig - Alternative Religion Issue - December 1999 by:
Doktor Bill T Miller - the part-time KING OF SLACK.
EMAIL for USED SLACK: btm@billtmiller.com
Special Thanx to: Joe Bonni, Alkemist, and Jeff Lawrence at Boston's Weekly Dig.