Simulated BTM Hightlights:
Enter the tweaked realm of mutant musician, engineer, producer, remixer...
BILL T MILLER.
1956 - May 4th - Born in Virginia.

1958 - (birthday) Received red toy piano gift on 2nd BD.
1964 - (x-mas) - BTM gets his first records The Beatles:
I Want To Hold Your Hand (45) and Beatles '65 (LP)
& a Herman's Hermits (45).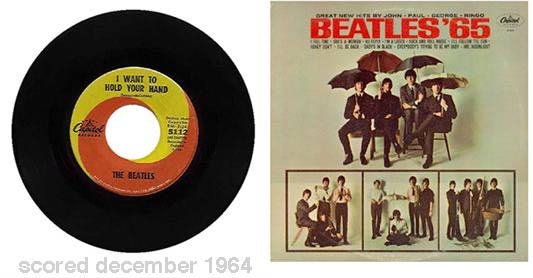 * (now living in North Carolina) Played the ALBUM on Dad's super hi-fi stereo with 15-inch EV speakers,
Tanberg reel-to-reel, separate pre-amp and tube amp & turntable.

1965 - (birthday) AM Mickey Mouse Radio tweaking of the static and squelch.
Opening it up and touching the coil inside producing extra glitch noise.
BTM first synth.

1966 - Lip syncing garage band with air guitar tennis raquets and trash can drums with two younger brothers.
(decades later dubbed THE RACQUET BAND.) 1966-74 & beyond - Scored Silvertone acoustic guitar and a Roger's snare drum and GE reel-to-reel tape recorder.... and continued goofing about with backward reel to reel slurping, vinyl abuse, primal screaming, reverb spring boinking, feedback guitar overload and ace tone and magnus organs.

1968-70 - ELECTRIC ONION - an actual band, with real SEARS SILVERTONE GUITARS

1975-76 - Graduates from Recording Arts School in California
- scores an Arp Oddessey Synth & Revox 77a 2-track reel-to-reel.

1976-84- Recording Engineer/Producer and Live Soundman gigs in CA and later NC.

1984 - MOVES to BOSTON...sets-up HEADROOM STUDIOS.
Continues work as Engineer/Producer/Soundman on OTHER BANDS music,
specializing in experimental, industrial, metal, hardcore, punk and noise rock.

1989 - Creates OBE - OUT of BAND EXPERIENCE and DIY indy label

1989 - OCTOBER 31 - FIRST OBE flexi-disc (GroatClusters) released
features phone-in messages from 1-800 number answering machine.

1990 - OBE - CALL NOW! LP and Cassette released.
Industrial alien sci-fi orgy experiemental trip-out rock...this 46 minute album,
The insane genius on his path to enlightenment overindulges in way too much
sexxx, tv, telephone fun, food, aliens, sacred smoke, magick elixar, etc.
Meetings with various gurus, shamans, spirit guides point the way along the pop-culture
overload. While watching OBE-TV and jamming at Headroom Studios, he heads out to
the convience mart and gets abducted by alien nymphos while scoring some
GroatCluster muchies. Time and space blur and yer never sure if yer in a TV show,
a dreamworld or an actual real-life adventure. OBE is for mutants who like it weird and wacko.

1990 - Multi-dimensional side band mutations of OBE are conjured up...

*OBE - OUT of BAND EXPERIENCE - http://billtmiller com/obe/
wacko weirdo sci-fi alien orgy samplefest industrial experimental trip-out rock
OBE features BTM jammin with a ton of guests having an OBE.
and tons of phone-in messages to the 617-LICK OBE answering machine hotline.

*KINGS OF FEEDBACK - http://billtmiller.com/kof/
industrial blues slack sludge hardcore metal noise rock

*DRUM ARMY - http://billtmiller.com/drumarmy/
experimental percussion trip around the world

*ORGY OF NOISE (originally called Wall Of Noise) - http://billtmiller.com/noise/
pure uncut heap of mutant noise

ALL simultaneously developing and mutating music for releases on BTM's indy label.
*ExtraTerrestrial Discs - http://billtmiller.com/etdiscs/

PLUS.....
*KING OF SLACK - http://billtmiller.com/slack
SubGenius healing anti-musick in the name of "BOB" DOBBS.
The seeds were there in 1990, but was officially mutated in 1995.)

1991 - Focuses in on OBE alter-ego KINGS OF FEEDBACK.
Figuring OBE is too damn weird for the tourists, KOF is designed to be be
more ROCK, with just a little wacko, so the stripped guitar, bass, drums,
samples, vocals, type of sound that can be unleashed LIVE.
KOF split 7-inch - "I Don't Give a BLEEP" is released, the first of several 7-inches.

1991-1994 - Overlapping OBE and KOF appearance on various records and compilations,
keep things cooking, till the full-blown OBE-KOF CD comes out.

1994 - OBE and KINGS OF FEEDBACK - OPEN YOUR EARS - 78 minute split CD released
on BTM's ExtraTerrestrial Discs.

1994 - Creates BTM ORGY EXPERIENCE web site....eventually getting
the domain name: http://billtmiller.com

1994-95 - KINGS OF FEEDBACK does a heap of LIVE SHOWS.

1995 - KING OF SLACK takes possesion of Doktor BTM at a live KOF Knitting Factory
SubGenius Devival. Having dabbled in SubGenius SLACK since the late 80's,
BTM goes solo under the control of J.R. "BOB" Dobbs. He performs healing surgery,
eventually forming the super slack group, SLACKBANGERS.

1995-1999 - Records tons of OTHER BANDS and releases
HEAVY HARDCORE HEADROOM CD compilation. Includes a ton
of bands recorded by BTM at HEADROOM: Disrupt, Grief,
Dropdead, Deformed Conscience, as well as OBE and KOF.

1998 - Creates MP3 ORGY web site to unleash tons of MP3s....eventually
getting the domain name: http://mp3orgy.com/
Every BTM band release, almost a hundred songs are available for free mp3 downloads.

1998 - After years in development, all three new cds are released in 1998.
ORGY OF SLACK CD (Spring 1998)
DRUM ARMY Wants You (Summer 1998)
KINGS OF FEEDBACK - RULES (Fall 1998)

1999 - Checks out NY EXPO Music Conference and meets tons of MP3 luvers
....including the gangs at AMPCAST.com, MP3.com, audioSurge.com, Rio MP3 Player and CD BABY.

1999 - ORGY OF NOISE - PLAGUE OF MP3s CD (Spring 1999)
BTM REMIX-O-RAMA CD - Tons of REMIXES (Summer 1999)

1999 - Y2K - Finally back to OBE.... working on NEW TUNES for OBE CD called "billtmiller.com".
This CD will be unveiled a tune or so each month via MP3. Advance bonus cut preview
OBE song called "NERD" was released on the KOF - RULES CD.
BTM continues recording OTHER bands music and is always interested in
doing REMIXES for bands who need that BTM MUTANT TOUCH.

1999 - OCTOBER 31 - TENTH ANNIVERSARY of BTM's first OBE Flexi-Disc release.
To celebrate BTM's ExtraTerrestrial Discs is releasing an MP3 CD-R called
"MP3 ORGY.com" will include all of the songs (about a hundred mp3s). Everything
song from full-length BTM releases, as well as various comps cuts and remixes.

2000-NOW - Retreating even further into the underground, becoming more
and more eccentric and reclusive, but still heaving out more noise fun.
RECORDING, SHOOTING PHOTOS/VIDEOS and MAKING a NON-STOP
ORGY OF NOISE. and sorting out plans for the BTM MUSEUM and DOCUMENTARY FILM.

MORE INFO at: billtmiller.com




| | | | |
| --- | --- | --- | --- |
| ARTIST | TITLE | FORMAT | DATE |
| OBE | Groatclusters | Flexi-Disc | 1989 |
| OBE | Call Now! | VINYL LP | 1990 |
| Kings Of Feedback | I Don't Give a Bleep | Split 7-Inch | 1991 |
| OBE | Warning: Danger | 7-Inch | 1991 |
| Kings Of Feedback | Real Enemy - Normal | 7-Inch | 1992 |
| Kings Of Feedback | Fuck Amerika | 7-Inch | 1993 |
| OBE-KOF | Murderfest | Split 7-Inch | 1994 |
| OBE-KOF | Open Your Ears | Split CD | 1994 |
| Kings Of Feedback | Locust | Split 7-Inch | 1995 |
| Heavy Hardcore Headroom | various artists | CD | 1995 |
| Orgy Of Slack | various artists | CD | 1998 |
| Drum Army | Wants You! | CD | 1998 |
| Kings Of Feedback | Rules | CD | 1998 |
| Orgy Of Noise | Plague Of MP3z | CD | 1998 |
| BTM Remix-O-Rama | various artists | CD | 1999 |
PLUS a dozen or so, CD and VINYL compilation appearances on OTHER labels.