Greg Miller - John Alexander - Clifton Buie - Bill T Miller



The name THE ELECTRIC ONION was a mutation taken from the just released BEATLES - White Album (November 1968) with the song GLASS ONION, combined with the word ELECTRIC, via an Electric Prunes/Electric Flag inspiration. When I moved from Virginia to North Carolina, I met John Alexander. John and I had started to jam a bit in summer 1968 and now with a band name and the addition of Clifton on drums (few days after x-mas '68) rock stardom was moments away.

I loved playing tennis racket guitar and tried jamming cigar box with rubber bands and had a cheap cardboard cowboy guitar that didn't last or tune up at all. I even jammed on my Dad's Baritone Uke. He showed me how to play the songs "Ain't She Sweet" and "Hey Good Looking" - but I never quite got the hang of the uke. Eventually I saved x-mas/birthday/chore money up and bought a cherry wood finish Silvertone Guitar from the mail order catalog around X-Mas 1967. I took a few lessons on my acoustic from a college student my dad knew named BUZZ. I learned a scale, a classic blues boogie riff and a few basic chords. Even started doing barre chords after a few lessons.

It took a while but by mid-1968 I had scored a Silvertone Bobkat Guitar and a Harmony 41 Guitar Amp & a Lafayette Reverb Unit and a Shure Microphone with stand & gooseneck. Each item in my rig was it's own challenge quest that took time complete. I remember checking out Sears catalogs for guitars and amps. The BOBKAT model was perfect since it was strat-like with a whammy bar. It was $56.95 and I my parents said if I earned/saved half, they would match me. After lots of extra duty household chores, we ordered the guitar and picked it up at local Sears catalog only store. I lived in a small town in NC, so they didn't even have a real Sears store. Then I needed a GUITAR AMP. The Silvertone Amp I wanted was too pricey. So I found a Harmony Amp with similar specs ( 2-12 tube with two inputs) in a BEST CO. catalog. I was some sort of outlet discount store in an actual small city 50 miles away. I watSo that was John got a Silvertone Rebel Guitar and a Silvertone Guitar Amp. He had a real job as a paper boy delivering on his bike, so he was able to score more expensive guitar and amp models. He originally had a Silvertone CLASSICAL guitar. He Mother was a choir director and pianist, so he had a great influence there. He really practiced classical style guitar and had a foot stool and everything. He turned me onto SEGOVIA and I marveled at how quick he learned finger picking. He's super smart and just put in the hours to get better. He had a super natural ear, so he ended up figuring out most of the rock tunes chords and showed me fancy chords. IF you look carefully in the one of the photos John and I are playing the same barre chord and he is smiling looking over at me. Right before we snapped the photo, I asked John to show me a cool chord and he was smiling looking over at me He played all the leads. Notice in the two polaroid shot on this page that John and I both have guitars. John did LEADS & RHYTHM GUITAR and I did RHYTHM GUITAR and BASS parts on my guitar. As thing unfolded and John and I had scored our super guitar rigs, I still needed a drummer, so I figured I would put together a my own drum kit and try to enlist somebody to bang on them. My Mom let me use the GREEN STAMPS she got at local grocery store promo to score a Red Rogers Snare Drum. I can still remember licking the Green Stamps and putting them in the booklet and later opening the box on the snare drum with stand. I didn't have any real pro drum sticks, so I cut a wooden dowel stick into a pair, just like what we used in Racquet Band. Then I needed a cymbal. We were on X-Mas holiday in Richmond, Virginia visiting grandparents in '68 and I got my Dad to take me to a music store. I remember I had save up from all my yard work chores and x-mas gift cash. The clerk at the store was an older balding quiet european gentleman with glasses. When I told him my cymbal budget, he kind of sighed and led us off to a bargain section. I ended up scoring a 16-inch German Krut Crash/Ride Cymbal the cheapest they had. He tossed in a flimsy stand and I bought a pair of real drums sticks. I remember counting out all my cash on this large glass counter and coming up a couple dollars and some change SHORT. My Dad chipped in and I offered to work it off later, he said that's OK and now I had the start of a KIT. Snare drum with stand, cymbal with stand and a pair of real drum sticks. later adding a Mangus Chord Organ to my arsenal. The Beatles Abbey Road album was released in fall 1969 and the song "I Want You" was one of the last tunes added to the The Electric Onion set. By early 1970 the band sorta fizzled away because of a LACK of sex and drugs and rock-n-roll and band members took off various on solo careers and the quest for enlightenment.

Actually the FIRST BTM "band" was a few years earlier in 1966, when we lived in Virginia, BUT our "instruments" were tennis racquet guitars, plastic trash can drums, one actual plastic guitar, broom stick mike stand with a dixie cup for a mike all set-up to lip-sync to records and have fun. It started with myself (Bill T Miller) and my younger brothers David and Greg in the living room and then later moved the garage. I added bandmates Carl Dickoff and David Simpson who were my own age (nine years old) and the rest is history.

No actual audio recordings were made of The Electric Onion or Racquet Band, but there is rare short 8mm silent film that my MMMom shot of the original Racquet Band line-up in 1966 with brothers "Bill David Greg" rocking out.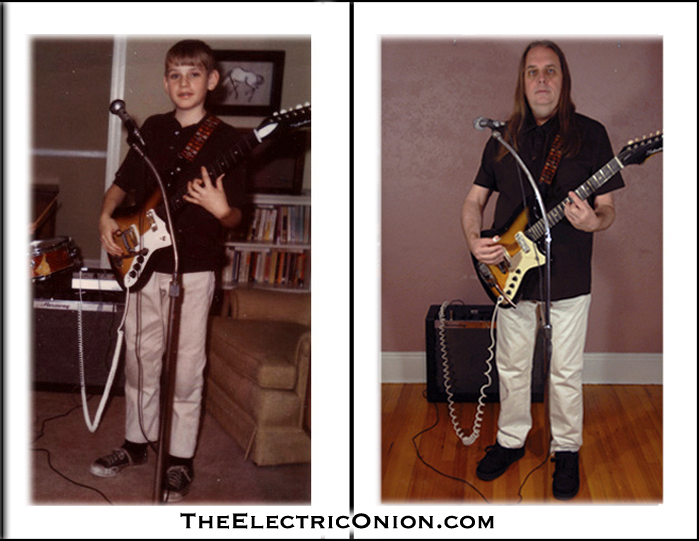 BILL T MILLER * THEN & NOW
1968 & 2011