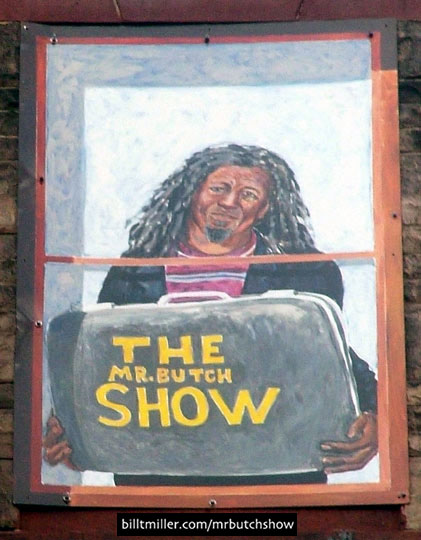 ---
MR. BUTCH
---



HAROLD MADISON, JR.
September 11, 1951 - July 12, 2007



I am friend/fan of Mr. Butch. I met him in the mid-80s, and I put this site together in 2004 to help share the legend and myth of Mr. Butch. HAIL BUTCH ! Thanx - Bill T Miller



http://billtmiller.com/mrbutchshow/
(you are here)



---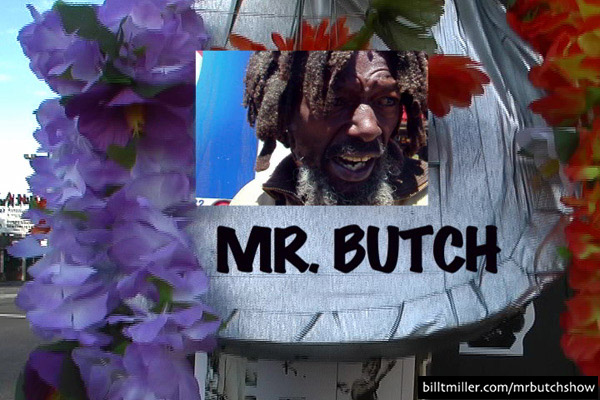 Keep On Rockin' Mr. Butch
Video by Bill T Miller with two photos by Sheri Hausey


MR. BUTCH
Memorial Tribute Parade
Allston Rock City July 22, 2007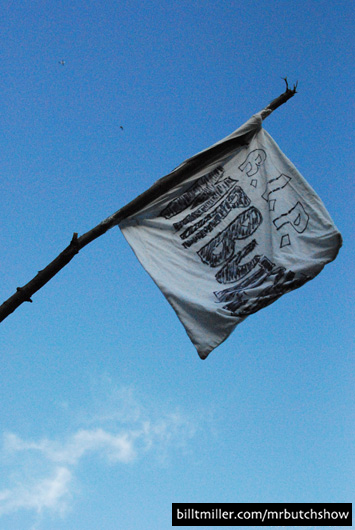 * CLICK TO SEE TONS MORE MEMORIAL PHOTOS *



---




SEE/HEAR some WORDS of TRUTH
from the MR. BUTCH...
"ONCE YOU'RE DEAD, YOU'RE DONE..."

LIVE at BURGER KING - ALLSTON ROCK CITY
- video shot by Bill T Miller on April 25, 2004 -



When i shot this video of Butch i was waiting for the 57 bus in Allston and Mr. Butch came strolling by, i mentioned that i was going to see Burma reunion gig and then started rolling vid tape with...

"We're live with Mr. Butch in front of the Burger King, what ya got to say for yourself?"

BUTCH - "damn, i can't believe Mission Of Burma is still going."
BTM - "they're back in action, they're playing at Avalon tonight."
BUTCH - "well i'll be god dammed."
BTM - "there ya go, just like Mr. Butch, they keep on rockin'...."
BUTCH - "keep on rockin'... "keep on rockin'..."

(then i zoomed in tight and he launched into the spew that is seen on video here.)

BUTCH - "ya gotta keep yourself going in a forward manner so that yer friends is always going up in a progressive way, it's too bad that you have to do these things, but ya gotta be articulate everyday.

keep it going on strong and straight and use your heart and all your might and all your weight and all your power, do what you can to make it last for many hour...

'CAUSE ONCE YOU'RE DEAD, YOU'RE DONE, YOU DON'T COME BACK!"

BTM - "YEAH" - was added at end of video as BUTCH strolled on down the road and then bus came and i was off to Burma (with Sunburned & The Dresden Dolls.)


---
MR. BUTCH BENEFIT CONCERT
@ Harper's Ferry in Allston on 7.27.2007

SEE a BUNCH of PHOTOS HERE !
---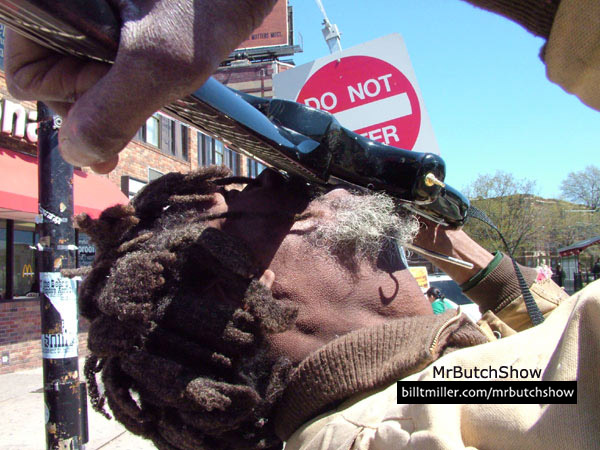 Mr. Butch - HORNY
CLICK HERE for MP3



Ranted and recorded to boombox cassette by Mr. Butch in various segments in 2004 in the streets of Allston with assorted crooning and pipe playing and then all the bits were edited together later by Bill T Miller into a this collage barrage mix.

BE WARNED - this is full-on Butch ranting and not PG or PC.
IF you can't handle it... DO NOT LISTEN.


---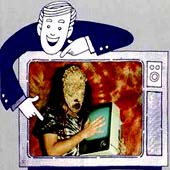 CLICK HERE for OBE - MP3


HEAR/DOWNLOAD and sound clip of MR. BUTCH guest appearance on the song WALL OF NOISE by Out of Band Experience (OBE) with Bill T Miller, Rich Gilbert, Dick Tate, Roger Miller, Cheater Slicks, and others making the studio noise. After listening to OBE answering message via pay phone in front of the Rat, i asked what he thought about OBE and their wacky phone number (where you could call and leave messages for next record and enjoy "lots of noise and fun for all.") Butch replied - "i never use the phone." and then "Well I guess it's it's good experience my friend, i think it's good and it's decent and keeps people going in a positive way.... and they always have a way to judge themselves and their art and the more art that comes into Boston the more creative it's gonna get. i just hope that the people that have the power and all the wealth and understanding don't turn off this form of art we have going right now.... WACKO WACKO."

Butch's rant was recorded live to my OBE microdeck recorder in staircase by THE RAT in 1989 when he was the "MAYOR OF KENMORE SQUARE" and collected TAXES. When he moved to Allston years later he came the MAYOR of that domain as well, but he was ROYALTY of the highest order and the title "KING" just seemed to fit better. ALL HAIL KING MR. BUTCH, the King of ALL Men.


---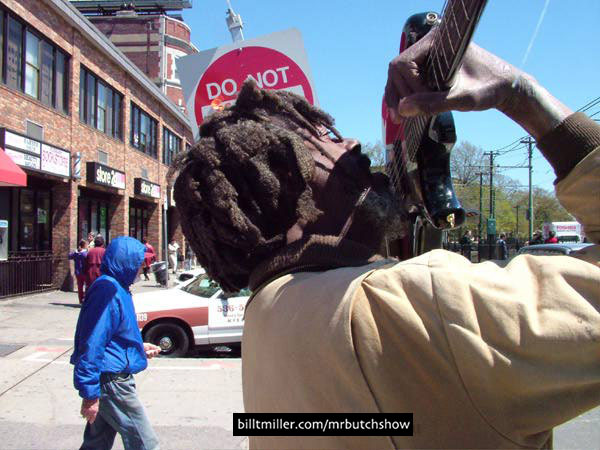 MR. BUTCH on the corner of COMM AVE and HARVARD AVE in Allston.
(which i always thought of as "MR. BUTCH SQUARE" in a reference to "MARK SANDMAN SQUARE" in Cambridge.)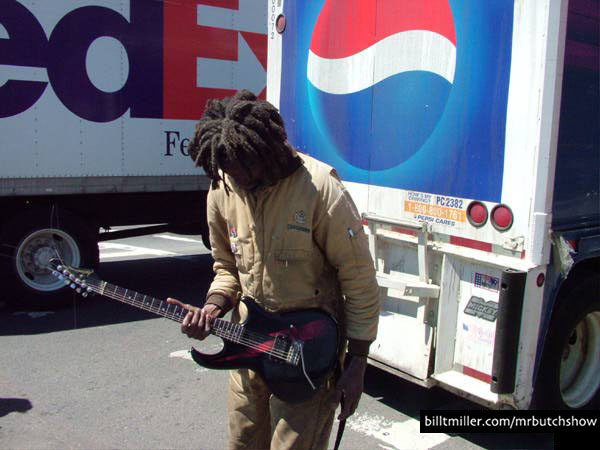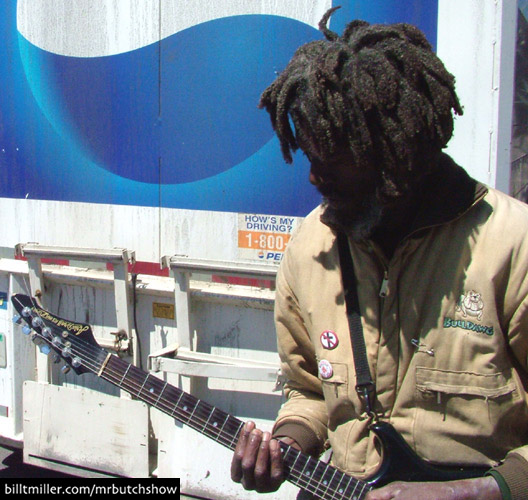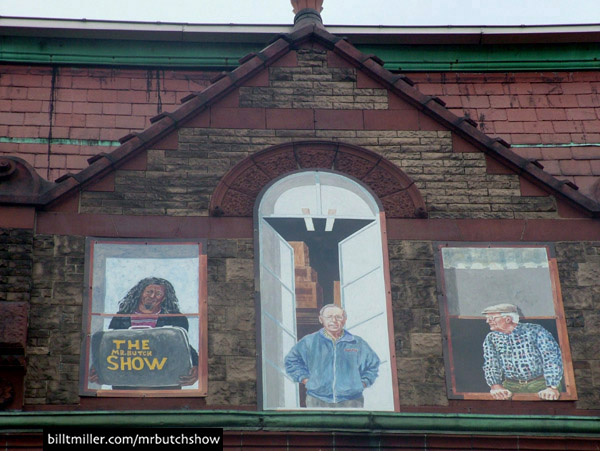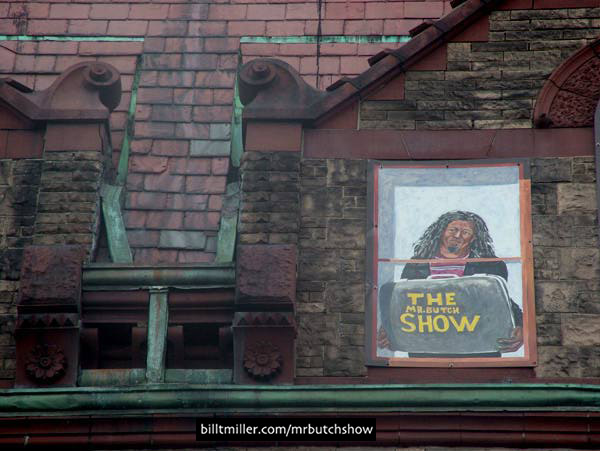 Murals Painted by ELLI CROCKER - Photos of Mural by BTM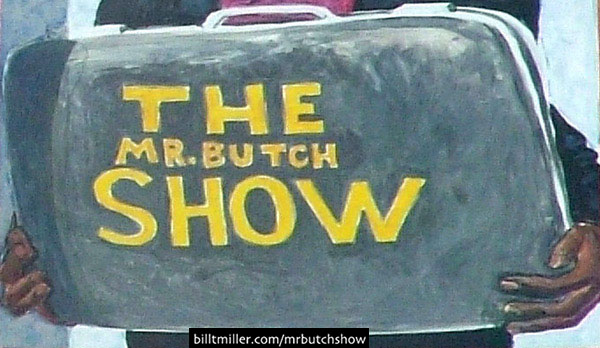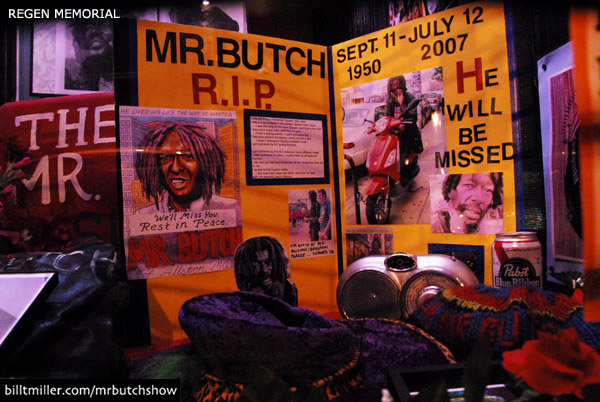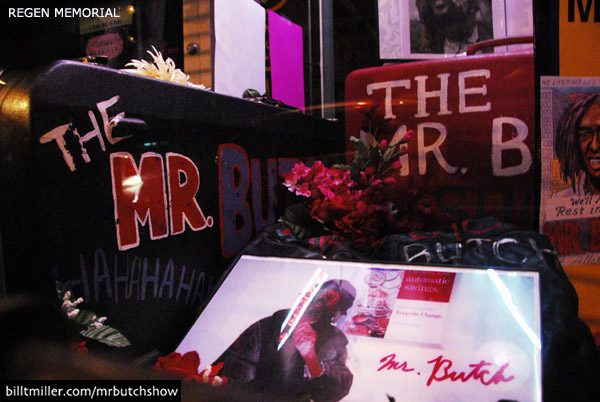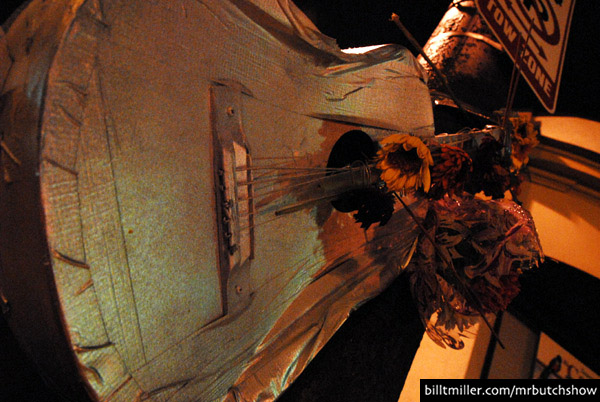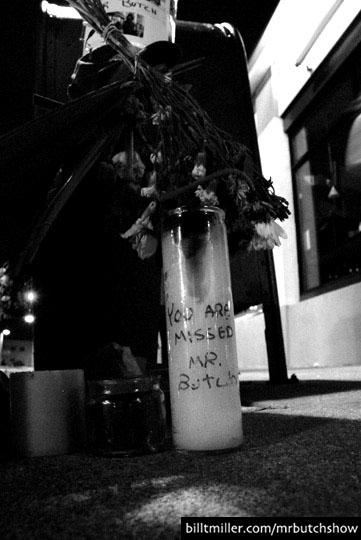 ---
Mr. Butch Show

Mr. Butch Show web page & videos & photos by
Bill T Miller
(Butch's friend & fan since mid-80s, who started this page in 2004.)



---
Mr. Butch @ Wikipedia

Mr. Butch Kenmore Sushi Photo

Mr. Butch Memorial - Sheri Hausey Photos

Mr. Butch - Cindy Bortman Photos

Mr. Butch - Nick Zelel Photos

Mr. Butch Article @ Boston Phoenix
"Death of a street king" by Jim Sullivan

Mr. Butch Article @ Boston Herald

Mr. Butch @ Boston Globe 2007 & 2006
& Latest Globe Article about Memorial


---

YOU TUBE VIDEO LINKS

"ONCE YOU'RE DEAD, YOU'RE DONE"
Video by btm

Remembering Mr. Butch
Video by metrounit

Mr. Butch Memorial Procession
Video by Ketchabrick

Mr. Butch Memorial Parade
Video by gkulaga

Mr. Butch Funeral 7.22.07
Video by RocknRoll Library

"Mr. Butch @ Freedom Rally - 9.11.93"
Video by Chuck @ HypeTV

"Overlap with Mr. Butch"
Video by Damian Kolodiy

"Sleepin With Mr. Butch" Documentary
from Dollarninetyfive Pictures
PT 1 & PT 2


---