Tons of MP3 LINKS
PLEASE-LINK to BTM's MP3 ORGY from your site!
http://mp3orgy.com
FEEL FREE TO any of the MP3 ORGY BANNERS and CODE TO LINK TO ME.

If you have a MP3 web site you think should be listed HERE in
MP3 ORGY -TONS OF LINKS and YOU want to SWAP LINKS....
EMAIL Bill T Miller.
MP3 ORGY is NOT just a LINKS site, it is the home to
mutant musician engineer producer remixer Bill T Miller
and his bands: OBE, KINGS OF FEEDBACK, ORGY OF NOISE,
KING OF SLACK, DRUM ARMY, and BTM REMIX-O-RAMA.
MP3 ORGY.com CD features over 120 MP3s.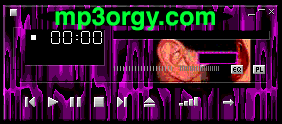 Enter the realm of mutant musician
remixer engineer producer...
BILL T MILLER

OBE -KINGS OF FEEDBACK
KING OF SLACK - DRUM ARMY
ORGY OF NOISE

TEN CDs -OVER 100 MP3s on one CD-ROM.
Plus, Videos, Skins, Website and MORE.
Playable on Macintosh and/or Windows.

ON SALE!
$10.00 - US CASH ONLY
(Includes USA Postage)

Bill T Miller - ExtraTerrestrial Discs
PO BOX 1045
Allston, MA 02134 usa



MORE BTM ORGY LINKS
BANDS | LABELS | MISC
BOSTON LINKS | SubGenius | ZINES
GEEKS | TV & RADIO | GEAR
IMPORTANT STUFF | MAIN LINKS

PLEASE LINK TO:
http://mp3orgy.com/

http://billtmiller.com/

Email Bill T Miller