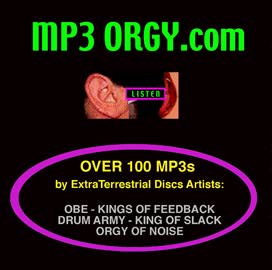 Version 2.0 out now, includes: website,
videos, skins, wallpaper and more mp3s.
Enter the realm of mutant musician
remixer engineer producer...
BILL T MILLER
OBE -KINGS OF FEEDBACK
KING OF SLACK - DRUM ARMY
ORGY OF NOISE
COMPLETE LIST OF MP3s

CREDIT CARD OR PERSONAL CHECK
Shipped anywhere in the world!
$5.00 - plus postage.
Call CD BABY: 1-800-448-6369
ORDER ONLINE at: cdbaby.com/mp3orgy
ORDER DIRECT with US CASH - $5 usa ppd
BILL T MILLER - ExtraTerrestrial Discs
PO BOX 230221 - Boston, MA 02123 usa
Over 100 MP3s for Macintosh or Windows.