****

****

Bro Cleve -- Dok BTM -- D.K. Jones



S L A C K B A N G E R S




SuperFuckinSlack UnHoly Trinity All-Star Alliance

DOKTOR BILL T. MILLER - KING OF SLACK
with his Living Keyboard of Slack!

BROTHER CLEVE - The one the ONLY
SubGenius Church Organist Legend!

REVEREND D.K. JONES - Synth Wizard God
Arise film scoremaster!






"BOB" is LUV! = "BOB" is HATE!
Slack Bang Me, Baby...Ya Know What I Need
Surgeons For CONNIE...Ready to Operate

PraBOB!
This is the SlackPyramid Power of DobbsTriangle
ANTI-MUSICK SuperGroup of yer Slackest Nightmares.

SLACKBANGERS performed at X-Day '98 Blowout!
KING OF SLACK (Dok BTM) and Rev. D. K. Jones
cranked out the SlackBanger Hits LIVE.
Special Guest SLACKBANGER, REV. IVAN STANG
joined in with NON-STOP SPEW. BROTHER CLEVE was there in spirit,
in the form of SAMPLES within THE LIVING KEYBOARD OF SLACK.
Bro Cleve blew out X-Day from an undisclosed location.

SLACKBANGERS were at the BOSTON X-DAY FILES DEVIVAL!
First, Last and ONLY SLACKBANGERS Boston appearance!
Dok BTM, Rev DK Jones, Bro Cleve (with Rev. Stang & Foo.)
Did YOU make it to THE FINAL, FINAL DEVIVAL before X-DAY 98?
April 23 - 1998 - Middle East (Upstairs)- Cambridge, MA
Rev. Ivan Stang, King Of Slack, Brother Cleve, Rev. D.K. Jones,
Pope Meyer, Father Legume, IrRev Friday Jones and "BOB"
SubSite - Rev Stang - Final Boston Devival Report

SLACKBANGERS unleashed at the BOSTON - Un-Devial -99,
with Doktor BTM, Brother Cleve, and Dr. Foo doing acappella
versions of "BOB" is LUV and KILL "BOB" in three part harmony.


Do YOU want to HEAR the SLACKBANGERS on CD?


ORGY OF SLACK CD COMPILATION



SLACKBANGERS MP3s

SlackBang Me Baby.mp3

Surgeons For Connie.mp3

BOB is LUV.mp3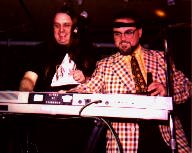 Dok BTM and Brother Cleve BANGIN'
The Living Keyboard of Slack
at Boston Slack Crusades '96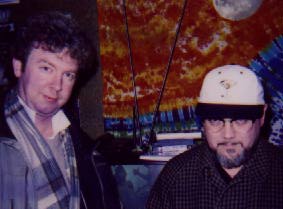 Rev. D. K. Jones and Brother Cleve
HANGIN' at HEADROOM Studios