Quintaine Americana is a heavier than fuck, crude and
rude heap of bullshit ROCK band spinning yarns about
AMERICANA....land of lost dreams and assorted losers.

Charles Robert Dixon-Guitars, Vocals
Jason King-Drums
Marc Scheicher-Bass
CherryDisc released the QA CD debut - "NEEDLES" on JUNE 18, 1996
recorded at Euphoria Sound Studios by Engineer/Producer BILL T MILLER.
Co-Produced QA and BTM.
Mastered by JONATHAN WYNER at M Works.
Special THANX to: John Horton and Graham Wilson at CherryDisc.
Jim Brant-Live QA Sound Engineer - David Herlihy-Attorney
The video for the QA song "WAITRESS" was filmed at JACQUES BAR with lovely drag queen waitresses serving the drinks.
---
WBCN RUMBLE RAMBLINGS....
Planning their own brand of sabotage after late night meetings in the back of a motorhome in West Virginia are QUINTAINE AMERICANA; burning down the highway to hell, Big Black providing the soundtrack as they sit behind the wheel of Elvis' Black Cadillac. David Lynch directs the action with brake work guaranteed by the Birthday Party. Add in an illegal inspection sticker courtesy of Jawbox and the Jesus Lizard in the glove Compartment and Quintaine Americana pick up where Air Supply left off. Quintaine Americana come from a place where Ford Pick-ups and duck shooting hold a certain ground with the local rock scene. These good ol' boys moved to Boston to escape, only to discover coffee ridden lands and identical driving conditions minus the cattle crossings. Uneasiness being the main ingredient to Quintaine's sound, it comes as no suprise to discover that all the band members are simultaneously half-brothers and each other's uncles. Some call it ignorance, some call it fearless, but to challenge the awesome blast of QUINTAINE AMERICANA could just be plain suicide.
---
WICKED DISC released a 14 band CD called
"wicked deluxe" which has the QA song "BLACK CAR" closing
the CD. engineered/co-produced by Bill T Miller at New Alliance.
Special Thanx to Alvan Long, Frank E. Buttkiss,
Mudrock, Sean K. Sweeney and DeeDee Kearney.
This version of this song is only available on this CD comp.
QA also appear on WBCN and WONDERDRUG CD comps,
with QA cuts engineered/co-produced by Bill T Miller.
Some OTHER releases that have featured QA members include:
MOTHER OF GOD- Rare vinyl and cassettes.
Recorded at HEADROOM Studios and The Lanes by Bill T Miller .
Limited 200 each pressing blue vinyl 7-inch released on BTM's label.
KEV-O-MATIC- with MARC on BASS
(includes Kevin and Brian from OTIS)
GRIND -"Kitty Muzzle" CD with MARC on BASS.
CRACKTORCH with MARC on GUITAR and VOCALS
KINGS OF FEEDBACK - Vinyl/CDs with JASON on DRUMS.
KOF is industrial blues slack sludge noise rock.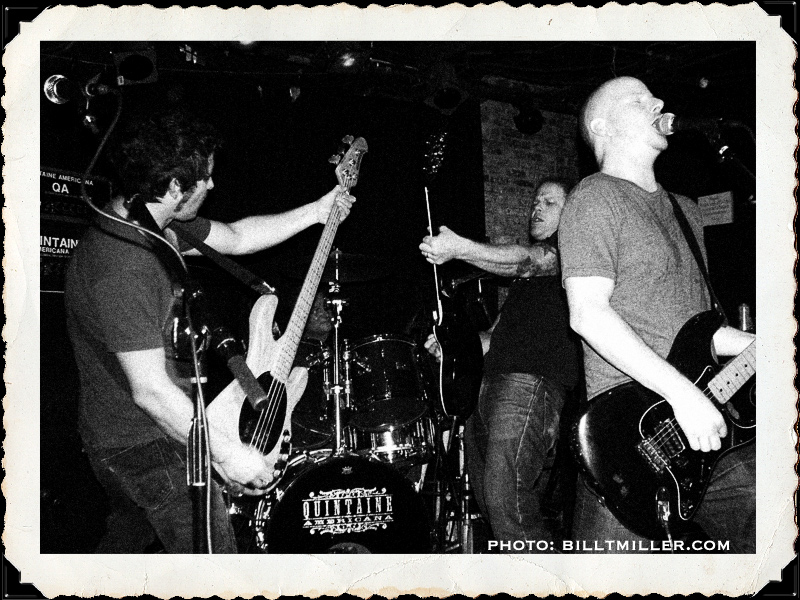 see photos of
QUINTAINE AMERICANA
2011 REUNION SHOW


---
Bill T Miller engineered/co-produced the QA - Needles CD...
(as well as early QA demos, comp cuts, Mother of God, and KOF.)
THIS page is for the NEEDLES era Quintaine Americana, circa 1996-97.
Tales of the pathetic ANTI-HEROs...
Billy Quintaine and Johnny America!
(Warning: NOT for the easily offended!)