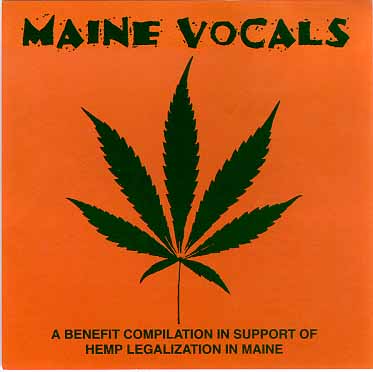 MAINE VOCALS CD
A Benefit CD Compilation in Support of Hemp Legalization in Maine
With a portion of the proceeds going to benefit Maine Vocals (a political organization that was dedicated to ending marijuana prohibition in Maine,) this 77-minute disc (released on reversing recordings) features 21 different artists from 12 different states donating a smokin' mix of rock, pop, punk, ska, rap, industrial, blues, jazz, folk, electronic, and experimental tracks to the pro-hemp cause.
As you might expect, the points of view are as wide-ranging as the musical styles -- from the recreational to the agricultural, from economics to politics, from the religious to the ridiculous.
THIS MAINE VOCALS CD is NOW OUT OF PRINT!
OBE GROATCLUSTERS BONGFEST REMIX is now available as bonus cut on the DRUM ARMY CD.
Tokin' - Big Bud & The Bone Boys (Dover, NJ)
Smoke The Prophets - Freeworld (Memphis, TN)
Bit O'Bone - Mama Kettle (New York, NY)
Groatclusters Bongfest Remix -
Out Of Band Experience(OBE) (Boston, MA)
Turn On Your Mom - Ghostwalks (Portland, ME)
A See Way - Zara (Franklin, ME)
Kay Gee Bee - Varicose Veins (Brighton, MA)
Drug War - Mr. Jones & the Previous (Olympia, WA)
Please, Please Federal Policeman - Carl Klang (Colton, OR)
Mr. Greenbud - Shark Sandwich (Topsham, ME)
The Hop - King Hop (Old Saybrook, CT)
Point Of Sale - Mike Pritchard (Lake Hopatcong, NJ)
Smoke All Day - Dave Kearns (Denville, NJ)
I Got To Get A Buzz Tonight - Coupe Deville (Loudon, NH)
K.G.B. - Kahtunes (Portland, ME)
Etherea Arriving - Richard Bone (Greenville, RI)
Roadrunner Kiff - Wobblies (Phillips, ME)
Burn Babylon - Asia Purple Empire (Panama City, FL)
Knot In The Rope - Liquid Daydream (Boothbay, ME)
Red Cross Sky - John Koutny & Red Cross Sky (Portland, ME)
Time To Legalize - Jeff Stonehill (Lopez Island, WA)
http://www.mainevocals.org/
MAINE VOCALS.org




BTM ORGY