Engineer/Producer BILL T MILLER
Cutting TRAX at SUPERSONIC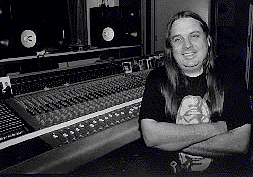 Grief - Recorded the "TORSO" CD/VINYL (1998 ) and the "...and man will become the hunted" CD (2000) at SUPERSONIC. Both are released on Pessimiser-Theologian Records.

Austen's Dead - Hardcore suburban metal freaks recorded a CD called THE LEGEND of the SWEDISH NANNY'S TORSO.

I am based out of my own studio HEADROOM. I freelance out of several studios.... SUPERSONIC's 2-inch 16-Track Studer and 2-inch 24-Track Sony ANALOG with the Neotek Console and INDY PRODUCER Friendly vibe MADE it one of my favorite studios. PLUS, they have 16-Track Tascam Digital and Pro Tools Editing.

Special thanx to:.
Dave K., Dean, Colin, Tom, Joel, Dave A. and Darron.
BTM at Supersonic b+w photograph (above) by Galen Palmer.
BTM at Supersonic color photograph (below) by Dave K.