+++++++++++++++++++++++++++++++++++++++++++++++++++++++++

Grief-Alive CD
Live Show from Reunion Tour

Released June 2006 on Southern Lord
 (Ltd. to 2,000 numbered copies)

***********************************

GRIEF LIVE SHOWS
(note: some upcoming GRIEF shows may NOT be listed here.)

***********************************
In 2005 the corpse of Grief kicked open its coffin and has been 
seen shambling through various venues along the east coast. 
This doom metal zombie will stalk the night in search of the 
brains of America's youth on which it will feed. It will live for an
undetermined length of time before returning to its hole in the ground.


***********************************

JULY 29, 2006
Grief
@ O'Brien's - Allston, MA  - 21+
Heavy Metal Breakdown #15
with Villains & Witchtomb & Disc Junky Alex Onslaught


***********************************


MAY 20, 2006
Grief
@ Reflections Louge
Chelmsford, MA

MAY 18, 2006
Sunn 0))) - Grief - Sin of Angels
@Middle East Downstairs 
Cambridge, MA - 18+


JANUARY 28, 2006
@ The Living Room - Providence, RI
with Vital Remains - Sin of Angels - I, Destroyer - Teratism

***********************************
DECEMBER 31, 2005 - New Years Eve
GRIEF & ADOLF SATAN & more
O'Brien's - Allston, MA

***********************************
NOVEMBER 2005
***********************************
* GRIEF @ RedrumRedrumRedrum on November 5, 2005
for Bob Deads Birthday Bash - 10pm
***********************************
* GRIEF @ THE KYBER on November 11, 2005
with Otesanek, Face Down in Cheerios, and Syzslak

The Kyber - 56th South 2nd St. - Philadelphia, PA
Phone # 215-238-5888
Admission is $8  21+ age requirement
***********************************
* GRIEF - Baltimore, MD on November 12, 2005
***********************************
* GRIEF - Boston, MA on November 15, 2005
at Middle East Club - 472 Mass Ave, Cambridge - 18+
***********************************

***********************************
OCT & SEPT 2005
***********************************
GRIEF @ Knitting Factory- NYC on October 15, 2005
***********************************
GRIEF @ O'Briens - Allston, MA on September 11, 2005
+++++++++++++++++++++++++++++++++++++++++++++++++++++++++

SUMMER 2005...
July 17, 2005 - GRIEF (reunion)
1st Annual NEW ENGLAND GRIND & DOOM FEST
Middle East Club - DOWNSTAIRS, Cambridge, MA

Sat 7/16
Not Common Records presents "The Doom & Grind Fest" - Phobia,  
Circle of Dead Children, Kill the Client, Drogheda, Adolf Satan, Biolich, 
Abhorred, Continued Without A Finding, Sin of Angels, Hirudinea 
18+ $12adv/$15DOS (Two day passes available for $20)

Sun 7/17
Not Common Records presents "The Doom & Grind Fest" - Grief, Unearthly Trance, 
Buried Inside, Conifer, Wet Nurse, Magrudergrind, Syzslak, Kevorkian's Angels, Ocean, 
ID 18+ $12adv/$15DOS (Two day passes available for $20)

++++++++++++++++++++++++++++++++++++

2004-2005


NOOSEBOMB cut new trax  with Bill T Miller at Headroom 
for a split cd release on the BESTIAL ONSLAUGHT label.

CHECK OUT:  noosebomb.com
several live gigs are booked for 2005... get yer ass to see NOOSEBOMB LIVE.

TERRY has been playing GUITAR with SUPERPOWER

===============================
OLD RUMOUR DEPT.... 
FALL 2004 - the phrase "GRIEF REUNION" was being tossed 
around and looks it might even happen with key core members 
and others from assorted line-ups...
===============================

Who out there went to a GRIEF GIG during the DECADE of GRIEF shows?
Who has seen NOOSEBOMB live????

RUMOURS of DISRUPT REUNION have been around for years 
and there are NO PLANS.... PERIOD. 
but... who knows. Nah, it is NOT happening. forget that...

FUCK NOSTALGIA - GO SEE NOOSEBOMB LIVE
....sure they are not Grief or Disrupt (and don't try to be,)
 but the hybrid of the corpses of those bands that are living NOW.

 noosebomb.com

++++++++++++++++++++++
FALL 2003


NOOSEBOMB featuring  Grief/Disrupt members...
JEFF (on Vocals and Guitar) and RANDY (on Bass)
along with MIKE (Drummer for Bane of Existence)
recorded an album with Bill T Miller at Headroom 
which will be released on Shifty Records in 2004.

Check out....
http://proremix.com/noosebomb


Eric (Grief Bass and Artist) is doing cover art for Noosebomb CD.

Terry (Grief/Disrupt Guitar) has been playing some with WARHORSE.


++++++++++++++++++++++
FALL 2002

Southern Lord  Records unleashes, "Turbulent Times"  CD
with unreleased and out of print material from GRIEF.

++++++++++++++++++++++
june two thousand fuckin' one.....

THE END IS HERE FOR GRIEF.
Having been together for nearly ten
years the band has officially broken up.

++++++++++++++++++++++
PAST GRIEF GIGS  2000

GRIEF IS HITTING THE WEST COAST IN DECEMBER.
WE ALSO HAVE 2 NEW YORK SHOWS.

=================================

Why Not Drag Your Worthless Lazy Apathetic Drugged out Ass out of the House 
for a Night of Hatred and Intoxication?

=================================

* GRIEF - At CBGB's New York - Saturday December 2nd

=================================
GRIEF - PHOBIA - 16
=================================
Appearing at-

The Troubador / Wednesdy December 6th
-with special guests
9081 Santa Monica Blvd. in West Hollywood, CA

Gilman St. in Berkeley, CA. / Saturday December 9th - all ages
-with "Noothgrush" and "Spaceboy"

Mission Records in San Francisco, CA. / Sunday Dec 10th - 4pm. all ages
2263 Mission (between 18th st. and 19th st.)
- with "Falling Over Drunk" or "Plutocracy"

=================================

Grief and 16 also playing:
Showcase Theater  / Friday December 8th - 8pm. $8 - all ages
638 South Main st. in "scenic" Corona, CA.
-with: "God's Iron Tooth" and "Bleeding Through"

=================================

GRIEF AT CBGB'S IN NEW YORK, Saturday December 30th with - 
Disassociate, Dropdead, Doll House Salon and some other fun wholesome bands...

GRIEF - "...And Man Will Become the Hunted" CD Now Available.


+++++++++++++++++++++++++++

SEPTEMBER 2, at the Taj Mahal
Little Creek Road, Norfolk, Virginia
757-489-8406

SEPTEMBER 3, at Kings
424 South McDowell Street, Raleigh, North Carolina

there's also a party at the Jermflux House Sept 1st that's in virginia but 
who the fuck knows where.  the September 2nd show is my birthday so 
i want some damned blood. - eric of grief

+++++++++++++++++++++++++++

LOUD AZ FUCK FESTIVAL II - Friday-Sunday

SATURDAY JULY 8 - CBGB's in  Manhatten...
12:30 AM - 1:00AM  GRIEF
          with DROPDEAD, HELLCHILD and more!

+++++++++++++++++++++++++++

4/25/2000 - just want to thank anyone that came to our shows and the people 
responsible for setting them up... you really made our buzz more enjoyable. 
For those interested in obtaining a specimen of my famous projectile vomit, 
there are several places in downtown manhatten where one can find it... its 
probably very potent and can be converted to some form of hallucinatory 
narcotic if processed under the proper scientific conditions - but be 
careful and good luck... eric of grief

==========

April 14   Friday  - Universalist Church in Concord, New Hampshire
                              - with AS THE SUN SETS and EHNAHRE

April 19   Wednesday - Met Cafe, Providence, Rhode Island
                      - with AS THE SUN SETS and EHNAHRE
                       show runs from 7:30 pm - 1:30 pm

April 22   Saturday  - ABC No Rio in New York City
                                 - with DROPDEAD 

For latest GRIEF GIG info contact ERIC...
CALL: 781-979-2392 or EMAIL: grief69@hotmail.com

+++++++++++++++++++++++++++++++++++++++++++++++++++++++++

3/18/2000 

"...AND MAN WILL BECOME THE HUNTED" the newest full length GRIEF recording 
is now available. For info on how to get it, you can write to pessimiser@earthlink.net 
or you can pester your local record stores to order it for you... thus improving 
our distribution... or you can write to me, Eric, at grief69@hotmail.com and i'll let you 
know how you can get it... to order through the mail please see the mailing address 
for pessimiser records on the CONTACT page of this website... 
this album will really make you happy. 
later, ericofgrief

+++++++++++++++++++++++++++++++++++++++++++++++++++++++++

2/17/2000

to anyone interested... the new full length GRIEF album is due out within a 
couple of weeks. "...and man will become the hunted." is the title... thanks 
to everyone thats written asking about it. finally it is nearly here... i'm 
not sure when it will hit the stores, but it can also be ordered through 
PESSIMISER - write to CHRIS at:   pessimiser@earlthlink.net   - to find out 
about ordering it... you wont be able to order it through us... bla bla bla... 
i'm not really in the mood to go on one of my long winded rants that no one 
finishes reading anyway so i'm going to shut the fuck up... thanks, eric.

+++++++++++++++++++++++++++++++++++++++++++++++++++++++++

1/20/2000

after a couple of million beers and many many many pounds of weed, Rick 
Johnson, the Drummer who played on Come to Grief, Miserably Ever After and a 
bunch of the singles has rejoined the band... the practice he's gotten in 
his absence shows! i thought he was a good drummer before but now he's even 
more of a bone wielding neanderthal with rhythm... you'll see.

bla bla bla, i shall now shut the fuck up and enjoy my soma's.
ericofgrief...

+++++++++++++++++++++++++++++++++++++++++++++++++++++++++

DECEMBER 16, 1999

this damned holiday season and grief

hey all... i thought i'd annoy everyone with a holiday greeting. i was just 
drifting through the cloud that some people call my brain and i saw santa 
pass bye... so i shot the fat hippy bastard. long hair, boots, beard, hangs 
out with elves... sounds like a hippy to me... fairy's wear boots, so do 
elves... the point is that you should get very stoned and drunk and fucked 
for xmas.

be sure to go out and hack a tree to death so you can decorate that and your 
house better than anyone else to celebrate the birth of christ with vanity

be sure to get drunk and fuck so you can celebrate with lust

be sure to try to make people feel like crap bye buying them a better 
present then they bought you so you can celebrate being a prick

be sure to hurt someones feelings by leaving them out so you can celebrate 
wrath.

be sure to wish you got what someone else got so you can celebrate with envy

be sure to be completely un grateful for everything you receive so you will 
want even more and can celebrate greed.

when its all over eat way more than you need while watching sally fucking 
struthers boast ethiopians on tv so you can celebrate gluttony

and then when your done doing that be sure to do absolutely nothing, lay 
there in a pile of paper and ribbons and chicken bones and celebrate sloth.

well, i really hope everyone does have a decent holiday. i'm working so i 
can try to come out of a financial hole... i truly hope though that everyone 
shakes off the religious aspect of the holiday and takes a minute to be nice 
to someone that cares about you that you havent had a chance over the last 
year to show that you appreciate them... anyone that takes grief out of your 
life... hahahaha how fucking funny...

bla bla bla, i'm done bothering you . happy time off from work if you get 
it. later , ericofgrief.

+++++++++++++++++++++++++++++++++++++++++++++++++++++++++

NOVEMBER 26, 1999

GRIEF RELATED INFO... releases etc... 

all... i drift through time unaware as a piece of stone in a rut. life sucks...

if you can not kick a man when he is down then you were not angry enough to 
hit him in the first place... ericofgrief.

GRIEF appears on the recent game 2 release with SOURVEIN, NEGATIVE REACTION, 
SUBSANITY AND BONGZILLA...

OUR NEW ALBUM WILL BE OUT SOON... I'LL LET YOU KNOW...

IN THE MEANTIME, CHECK OUT THE INFORMATION BELOW... ITS INTERESTING... 
INCLUDES SOME INFO ON FINDING STUFF THATS HARD TO FIND... THANKS... 
ericofgrief...

**********************************
Heavy Hardcore Headroom CD (1995) is back IN STOCK....features  a lot of GRIEF related cuts,
rare early Grief unreleased versions of I HATE YOU and TRUST, plus a cut from out-of print 
first Grief 7-inch , rare Disrupt from out of print 7-inches, Trent (with Terry of Grief 
RANTING  and BTM making noise),  Chicken Chest and The Bird Boys with JEFF of Grief
on DRUMS and JAY of DISRUPT on GUITAR, OBE (BTM's alien mutant industrial band) 
with guest TERRY of Grief on guitar the song YOU RANG.... plus tons of other bands recorded 
by Bill T Miller at Headroom Studios:  Kings Of Feedback, Dropdead, Deformed Conscience, 
Coleman, Toxic Narcotic, Devoid Of Faith, Disuse, Hail Of Rage,  Conniption, Dissension, 
Showcase Showdown, The Mind Parasites...etc. GET NOW NOW - ONLY $5 cash us ppd.
http://billtmiller.com/hhh/
==========
Unreleased version of the GRIEF song OSTRICH was REMIXED and MUTATED by
Bill T Miller at Headroom and is featured on the BTM REMIX-O-RAMA CD, available
for FREE DOWNLOAD. Or ya can get the CD which features other BTM remixes
for OBE, KINGS OF FEEDBACK, MELT-BANANA, PLAINFIELD,  AUSTEN'S DEAD and more.
IF ya need a wacko REMIX of YOUR BAND, BTM will hook ya up with a killer deal.
http://billtmiller.com/btmremix/
==========
ALL of the GRIEF OLDER VINYL is either out of print or getting very rare. If ya find any get it.
Chris at Pessimiser Records has some vinyl left, check out Grief site for details.
CHRIS is totaly cool and is the biggest Grief  fan in the world, that's why he put's out Grief stuff.

COME TO GRIEF CD (century media)  is completely OUT OF PRINT.
=========
MP3 ORGY CD-ROM is out with over 100 MP3s by BILL T MILLER (Grief producer/engineer)...
IF yer into heavy weirdo mutations of industrial noise experimental metal, check out his
bands: OBE, KINGS OF FEEDBACK, DRUM ARMY, KING OF SLACK, and ORGY OF NOISE
all with cds, records, tapes on his label ExtraTerrestrial Discs. On this CD-ROM
you can just pop it into yer computer and have 9 cds - six hours - over 100 "songs"
available with a click. ONLY TEN BUX ... or if yer a cheap fuck with a lot of time and no 
cash, you can download every single song for FREE online. (includes GRIEF BTM REMIX of 
OSTRICH and TRENT cut on ORGY OF NOISE and TERRY guest guitar on OBE cut YOU RANG.)
http://mp3orgy.com/

IF yer into industrial blues slack sluge hardcore  heavy metal thunder noise
check out KING OF FEEDBACK - RULES CD.... get the CD or download FREE MP3s.
http://mp3orgy.com/kofrules

+++++++++++++++++++++++++++++++++++++++++++++++++++++++++

NOVEMBER 17, 1999

from the darkest region of terra incognita...

eric of grief saying greetings to all of you fuckers... you spend to mcuh 
time on the computer.

but thats a good thing... anyway... i got some 7 inch records today
by the band KONTORTION. excellent grind. i did the covers for them i 
recommend giving this a listen. these crazed musicians really put their 
heart into the music... (or the heart of some unwary victime...) for more 
info, you can contact me and i'll  hook you up with an email address...

Kontortion will make you want to go out and buy flowers for some one that 
you love, and hten realize you hate them and jam the damned thorned stems up 
their fucking ass... while yelling "GOOBLE GABBLE GOOBLE GABBLE GOOBLE 
GABBLE GOOBLE GABLE..." ITS a Nice RECORD.

OUT ON dead alive recoreds... dead alive has a cool selection to... i dont 
know the address off the top of my head, but dead alive has a home page and 
kontortion has a home page... i htink both can be found on most search 
engines.

go to hell... and i'll see you there. ericofgrief.

+++++++++++++++++++++++++++++++++++++++++++++++++++++++++

NOVEMBER 11, 1999

HOWDY, eric OF grief writing...

the split with sourvein, bongzilla, negative reaction and subsanity is now 
available... for more info email eric... its called:
HE'S NO GOOD TO ME DEAD - an excellent release by GAME TWO Records.

theres more of my suck ass slop art in it. and its got some rather
swell nice happy puppy petting doll dressing tunes on it...

so why dont you give it a listen?

finally, my head fell out of my ass and i finished all of the art for the 
new grief record and sent it off to pessimiser... soon our record will be 
released "AND MAN WILL BECOME THE HUNTED"

my cat CHUCK, the one with all the fleas, died of old age... very sorrowful 
day in the harrison house. but at least now my rats can run around the 
living room safely... and my rats were alot friendlier than my cat anyway...

recently some of my artwork was deemed sexist. anyone who thinks i'm a 
sexist is thinking the wrong thing... thats all i'm saying. i dont hate 
anyone for race, color, sex, music type, appearance or anything, i hate 
people when they give me reason to hate them... which is quite often. but as 
i have said for years "hate everyone equally" I MUST say though, its funny 
that when you represent the victimization of a male (ie: the grief 
pessimiser cover with the guy whos cock had nails in it) that no one seems 
to care... you draw a picture of a woman being victimized and your a 
sexist... if anyone ever sees artowrk of mine that has women being 
victimized in it, just keep in mind, i'm representing something horrible 
that happens... not something i condone, take part in or enjoy...

bottom line is - women, men - they all suck... humans suck. so fuck all of 
them... myself included.

Ericofgrief.

+++++++++++++++++++++++++++++++++++++++++++++++++++++++++

AUGUST 5, 1999

greetings from space...
eric from GRIEF writing...
a bit of information about the band...

last week we completed recording our newest full length record to be titled
"...and man will become the hunted." we recorded 8 songs all together.

fucking fuckity fuck fuck fuck fank fuck fork fuck fucking fuck.

the new songs include dual vocals... Jeff still does most of them... but i
sing a few with him now... the album was recorded at Supersonic which is the

same studio that we recorded "TORSO" at...

Of course Bill T. Miller AKA the sound god... Engineered and produced the
recording with us... and put up with our dementia.

We also have some shows coming up this month:

Locally - we have a show Tuesday, August 17th at O'Brians in Allston
with Anodyne, Time in Malta, and hopefully Slow Division.

Non Locally - Wednesday the 25th of August, at the 
Continental in New York City...

Friday the 27th - the Caboose, in Rowley North Carolina
(i think its in rowley, maybe Garner... i've been there
a number of times, but never sober enough to noticeŠŠ what
fucking city we're in...)Š probably with Jermflux and Seven foot
spleen...Š be there or be elsewhere! but if youre there make sure your
really really fucking fucked up and obnoxious.

Saturday the 28th - somewhere in virginia with Jermflux and
spleen again... i think its actually a party... i'm not sure... either way
i'll be falling on my face...

in other news... I tried drinking Malta Goya this week and i thought i liked

it and then i realized it really sucked. its like some kind of Corn Flavored

soda...

while riding down the highway i saw a dead tree in the road, it was
horrible, there were branches and splinters all over the place... i was
stricken with horror.

The Blair Witch project - i saw this yesterday. it was very entertaining...
especially for those of us on acid. i've heard a lot of people think that
this movie is a real documentary. i'd like these people to email me so that
i can sell you some property that doesnt really exist. i mean c'mon folks,
anyone who knows anything about witches knows that in true witch stories
there are at least 2200 women referred to as Goodie Something or other... i
did like the movie... i just cant believe that so many people fell for it...

when buying a vaccuum cleaner, make sure it sucks.

when you're tripping, look to the sky for MOON BOOBS.

never buy your little cousin plastic bags for their birthday or a trash bag
to be used as a halloween costume. i've come to learn that even youngsters
require oxygen occasionally.

there seems to be some kind of a weed drought going on here there and
everywhere and it really really fucking sucks. then of course everyone
starts raising their fucking prices and acting like you need to suck the
shit out of their ass cuz they sold you an overpriced bag... - kill these
people...

my cat has fleas again, the fucking bastard. i dont know how this prick
pulls it off. he's a fucking house cat. it must mean that one of my friends
has fleas... he managed to chew a hole in his neck or scratch a hole in his
neck the size of a fried egg. its really nasty.
but you'll be happy to know that he's recovering well... and i de-flead
him...

forks are for eating, not for scratching your balls.
knives, now theres a fine ball scratcher.

ah well, i guess i've wasted enough of your time with this nonsense... but
what can i say... i'm an asshole with nothing important to talk about...
peace, hope to see you at the shows...

if you reach that low point where you feel like you dont even want to leave
your bed in the morning and dont want to go to work or even get up to take a

piss... then... um... well, i dont know what to do when that happens, i
usually get up and piss and then go to work and fester in my own rotting
aggrivation for 8 hours. so i guess your in the same boat.

like that old song by the police... if you love someone - fuck them good.

Ericofgrief.


ERIC HARRISON - BASS - VOCALS and Artist of GRIEF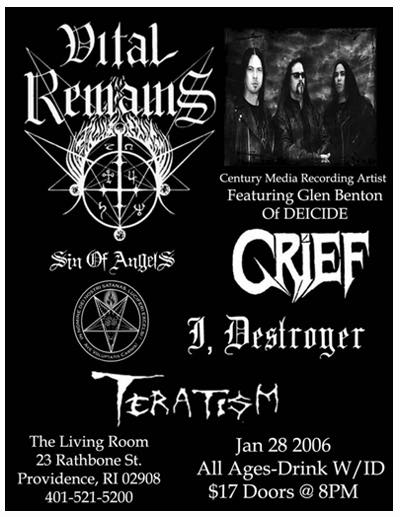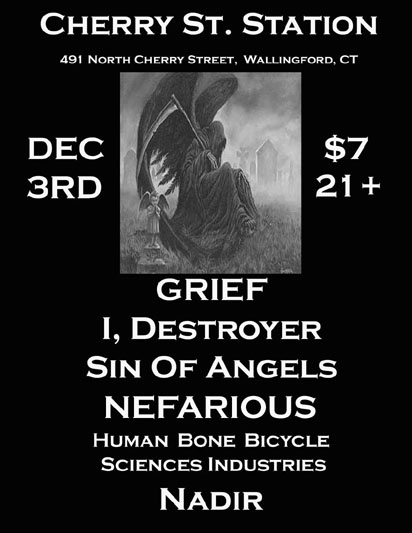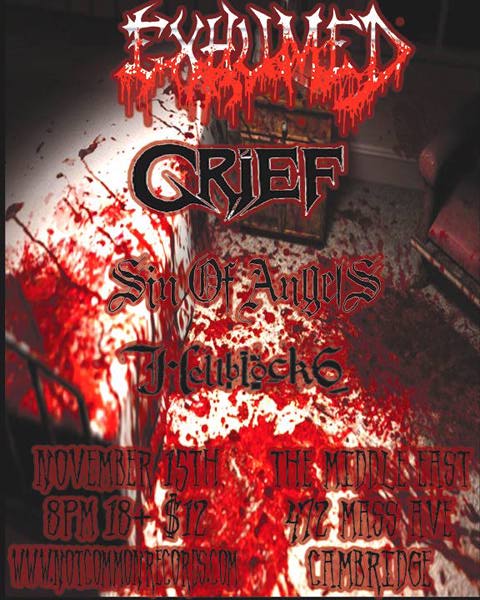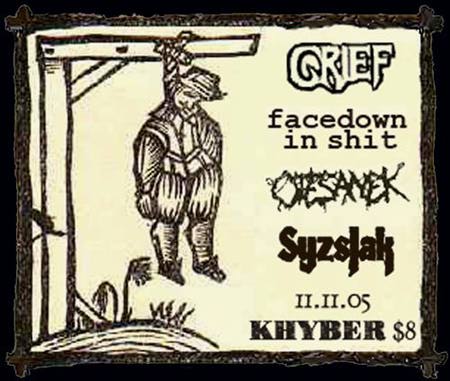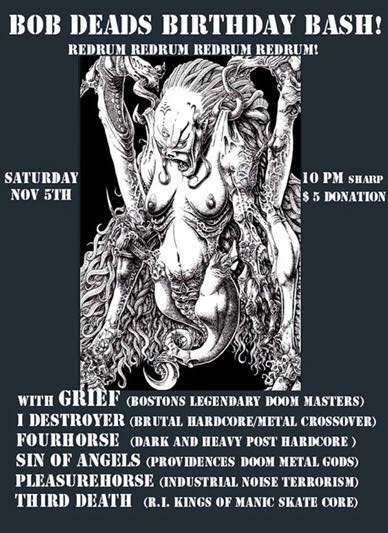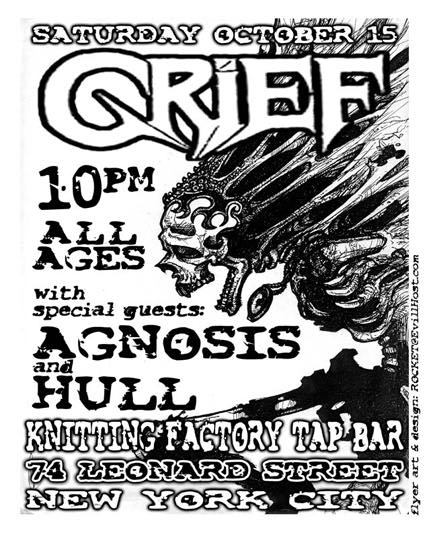 CLICK ON FLYERS SEE PHOTOS
from DOOM and GRIND or O'BRIENS SHOWS.