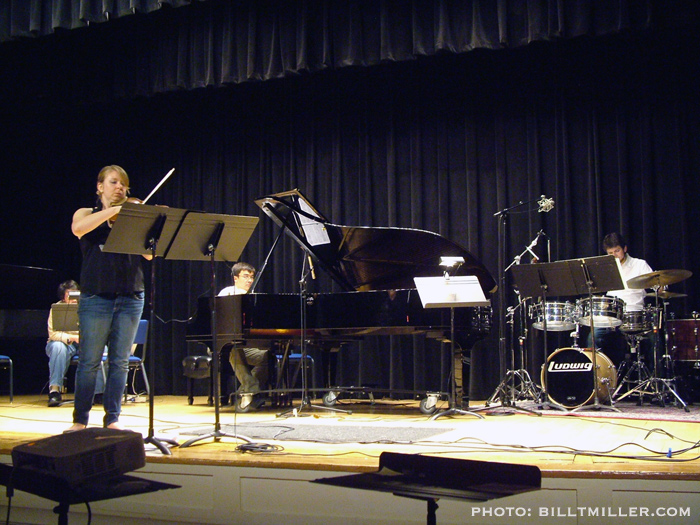 ROGER MILLER's
Composition SNAKES DREAM SKY
Performed at New England Conservatory - Boston
November 15, 2010

shivaree, the NEC avant-garde ensemble
directed by STEPHEN DRURY
KAYLEIGH MILLER - viola
ALEXANDER ZHU - piano
ANDRE SONNER - percussion
JASON BELCHER - electronicss

Photos by Bill T Miller



The audience was packed with many talented friends and fans wishing Roger well by coming out to support the debut of his composition. Roger has been a part of so many bands over the years and many of his collaborators were there. The audience included members of Mission Of Burma, Birdsongs Of The Mesozoic, Alloy Orchestra, cul de sac, Saturnalia, OBE, Orgy Of Noise, Drum Army, Ho-Ag, and all the various offshoots. Off the top of head, in addition to myself (Bill T Miller) - there was Sheri Hausey, Clint Conley, Ken Winokur, Erik Lindgren, Rick Scott, Ken Field, Michael Bierylo, Jonathan LaMaster, Robin Amos, Michael Bloom, Debra McLaughlin, Matt Parish, Vanessa LeFevre, and many more. Many of whom i have jammed with or recorded or photographed or something over the years. It was great to see everybody.

The NEC musicians are top notch and gave a stellar performance of Roger's composition.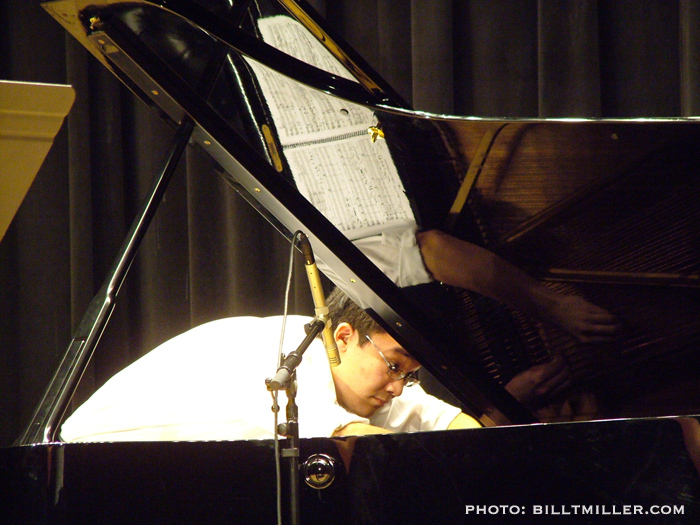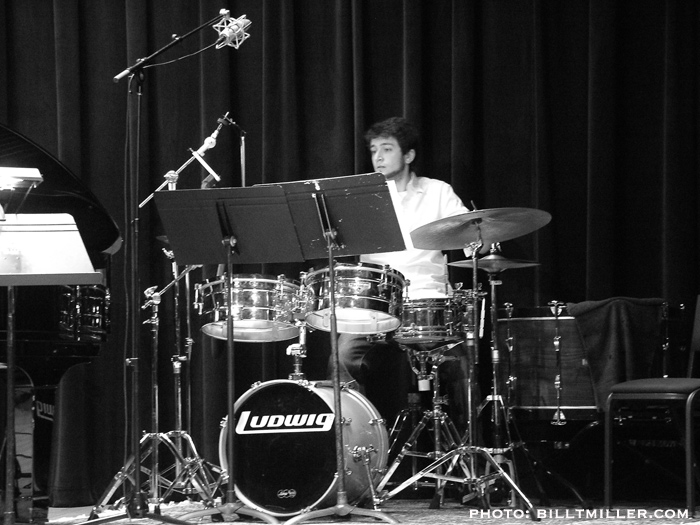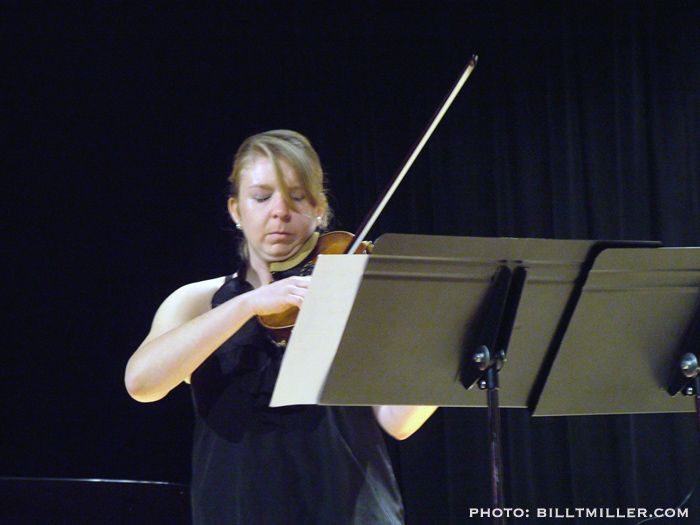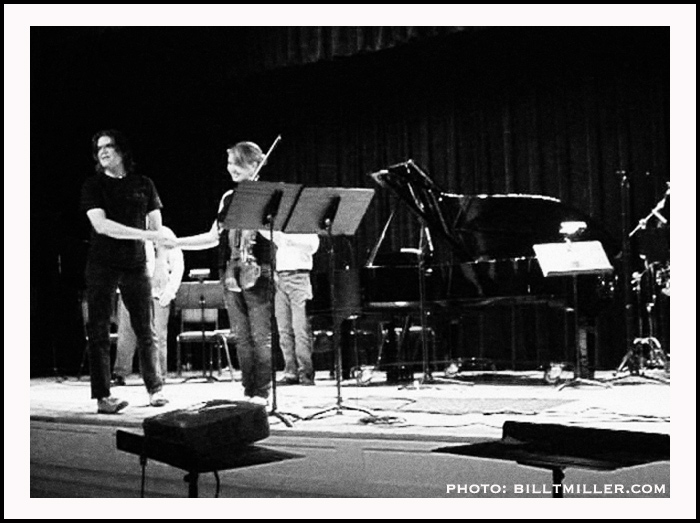 Roger's description of the composition...

Snakes Dream Sky, for viola, percussion, piano, and pre-recorded sounds.
18-20 minute composition for quartet in 4 movments.

Alap/Intro
Diamondback
Dream Interpretatin (Night Music)
Sidewinder
Shattered Sky

Shortly after Mission of Burma had completed our 2004 album "The Obliterati", I was certain that we'd made the album we should have made, but that no one was going to listen, and the band would soon fold. I began to ponder what I'd do with that creative energy when that happened. (curiously, it did not happen.)

Influenced by my brother Benjamin's "Sensorium Saxophone Orchestra" work in NYC, I began to think of fully composed music, like I had been working on as a composition major at California Institute of the Arts in 1976. But what use could I be to this type of music? I realized that my understanding of rock music might add something to "seriously composed music" in the present day. So I set out to compose music with an underlying feel of rock music. (It was only later that I realized this related strongly to one of my favorite composers, Bela Bartok. He used Hungarian folk music as a fundamental underpinning of his music. In some fashion, I was doing the same thing with rock music.

To root things in rock music, I used a riff from an earlier rock song of mine, "Diamondback", as the basis of the first movement. For the third movement, I composed a fundamental rock riff on the guitar and used that as the movement's basis. Thus the first and third movements, Diamondback and Sidewinder respectively, are composed off of rock riffs.

The second movement, the Dream Interpretation, utilizes a technique I developed in 1975. At that time I was in music school, but had no interest in organizing music in traditional ways. I was introduced to surrealism during this period and read that Andre Breton, the spokesman for surrealism, stated that music could not be surrealistic. At the same time, the surrealists embraced dreams. My solution to this problem was to use a suitable dream (I write my dreams down regularly) as the structural and emotional content for a piece of music, thus creating an undeniably surrealist piece of music. (Over the years, I have composed many of these).

The last movement, Shattered Sky, is based around a guitar feedback track I recorded as an overdub for a rock band I produced, The Bunnies. I isolated this feedback track and wrote out the notes to the best of my ability for viola. (the feedback track is played along with it as part of the "pre-recorded sounds" part).

When I first began composing, I was appalled at the oppressive harmonic content when rock harmony was used in this fashion. Taking another note from my brother Benjamin, I explored utilizing 12-tone rows for the basis of harmony. I treat these rows quite loosely, but they definitively form the harmonic feel of both Diamondback and Sidewinder.

Curiously, by the time I had settled on my operating mode, I realized that I was now picking up exactly where I left off at CalArts in 1976. The last piece I composed while a composition major there was a percussion trio. The last movement of the piece was based entirely on rock rhythms. And the second movement incorporated my very first use of 12-tone rows. I was picking up exactly where I left off, except that now I've been through punk rock.

The pre-recorded sounds come from my found-sound library (Fun World Sounds). They are all "real-world" sounds such as pieces of metal, children's toys, van doors closing, car engines, etc., which have been altered by pitch-shifting, reversing, LFO's, etc, to the point of non-recognition. They continue my interest in pointing out that all sounds are, at the very least, curious.

- Roger Miller



---

check out: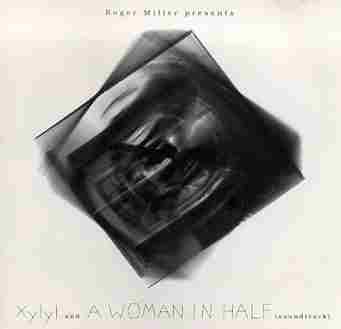 roger miller - no man - xylyl


see more photos...
roger solo
roger with club d'elf
roger with kinodance
binary system
roger & ben & matt in mmw
mob at the paradise
mob day
burma for burma benefit
missionofburmaphotos.com
missionofburma.com
roger at funworld
nec - New England Conservatory
---

back to:
billtmiller.com