BILL T MILLER and REG BLOOR
---
ORGY OF NOISE
Headroom Studios - OCTOBER 20, 2003
Bill T Miller - Circuit Bent Toy Noise and Theremin Zonkulator Guitars
Reg Bloor - Les Paul Guitar Tweaked via DigiTech Whammy Pedal

Digital Video shot by Glenn Branca with a Cannon ZR40 Camera.
The audio from this video preview was captured with the built-in
microphone and compressed down to lo-resolution Quicktime 3
for faster loading on the internet. Background screaming growl
and live on/off edits and simulated conducting colaboration via
the camera by Glenn Branca and then the footage was edited
and tweaked by BTM via Final Cut Pro Video Software.
Trax Anti-Produced by Bill T Miller into Pro Tools at Headroom.
Stay tuned for more songs and video from this session.
DOWNLOAD LARGER 17 MEG Version of SAME VIDEO.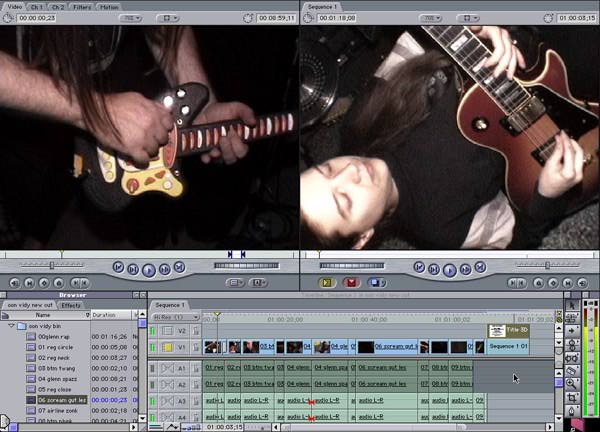 ---
OTHER Quicktime Videos
BTM Circuit Bent Toys Video
REG PIX and VIDEO at Headroom
ORGY OF NOISE