MELT-BANANA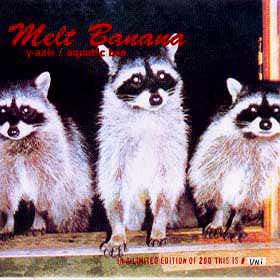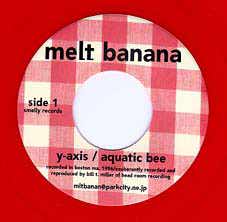 y-axis and aquatic bee

YaSuKo O. = vocal
AGATA = guitar
RIKA mm' = bass
SUDOH, Toshiaki = drums

Recorded Fall 1996 at HEADROOM -Boston
Remixed/Engineered by Bill T Miller
Produced by Melt-Banana and BTM
Melt-Banana toured the USA Fall-1996 gigging from coast to coast, stopping in BOSTON at HEADROOM to record. Eight songs were cut in a raw no-frills anti-production guitar-bass-drums-vocals live feel, with a few vocal and guitar overdubs. The 1997 Japanese Tour 7-Inch features two tunes that were Remixed-Sampled-Mutated etc by Bill T Miller.
Some people have a chopped off shorter version (1.4 megs) of the Melt-Banana Y-Axis MP3 that they downloaded from NAPSTER (around 1998) and it is mis-labeled as Discordance Axis Remix, instead of Y-Axis - Bill T Miller Remix which is 1.6 megs. Seems logical to mistake Y-Axis for Discordance, since Melt-Banana and Discordance Axis are friends and have played gigs together and Bill T Miller has recorded both bands.... but Discordance Axis was not involved in the Y-AXIS - BTM REMIX.
The Tour 7-Inch is OUT-OF-PRINT, but you can download FREE MP3s via the BTM REMIX-O-RAMA.
Plus, as of MAY 2005... these rare cuts are available via Melt-Banana - 13 Hedgehogs CD on the AZAP record label.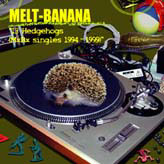 57 songs from 13 singles & splits (1994-1999) ...includes the songs "y-axis & "aquatic bee" that were recorded & remixed by BTM.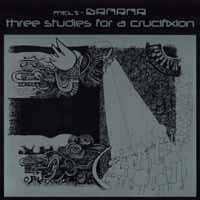 MELT-BANANA/THREE STUDIES FOR A CRUCIFIXION Split 8' ep is at last out now from a label called PAssacaglia records. (thanks Alex!) Three Studies For A Crucifixion is a band from Ohio, USA. Songs of MELT-BANANA is the recordings from early time, about 5 years ago, recorded by Bill T Miller in Boston USA. Because this split ep was planned about 5 years ago, and after that it had not been released till now, and then at last in 2001 it came out. We are kind of happy that this ep at last came out, happy but much more like nostalgic, waited so long. - info from MB Newsletter 2002

PLUS... Dephine Knormail Musick released a 7-inch compilation which includes the Melt-Banana song PLUK, that was recorded at the BTM-HEADROOM sessions.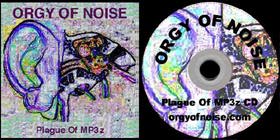 ORGY OF NOISE... While Melt-Banana was at Headroom, they did some GUEST bits for Bill T Miller's bands ORGY OF NOISE and KINGS OF FEEDBACK. OON trax were released on Plague CD & Underbelly Comp CD. KOF trax are on Rules CD & Hungrylad 7-inch Comp.

Along with Bill T Miller, Melt-Banana members appear on the ORGY OF NOISE trax: Noise is Musick - Insert Ear Plugs - Styloid Process - Cochlear Nerve. CLICK HERE to DOWNLOAD MP3s from PLAGUE CD




CLICK HERE to SEE LIVE 2005 Photos by BTM
---



Official Melt-Banana Center

billtmiller.com | EMAIL: Bill T Miller