STEVE STOLL
hooked up BILL T MILLER
with this BENT TOY CELL PHONE
"CELLIE"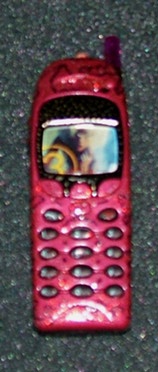 Techno/electronic producer Steve Stoll offered up a few very limited edition circuit bent instruments and BTM grabbed one for his collection. The target device is a small plastic childs phone - CELLIE. The toy was bent by the addition of a photo cell installed on the top of the unit to allow evil pitch control theramin style. The cellie is played by triggering the buttons and moving your hand over the photo cell to adjust the amount of light entering the circuit. sounds range from small clicks and pops to extreme distortion! Each unit is hand painted by Steve Stoll signed and numbered.

BACK TO BILL T MILLER's
circuitbending.com